The newest U.S. military branch, the U.S. Space Force, is in the process of choosing insignias for its enlisted ranks and turned to its members for help last week.
"We are conducting a scientifically-designed survey to capture Guardian feedback on proposed enlisted insignia designs," Space Force spokeswoman Lynn Kirby said in a statement to American Military News. "The results of the survey will inform the next steps toward finalizing insignia designs. We do not have a deadline for a final decision, rather our priority is to finalize enlisted insignias that appropriately reflect our members and the important mission they perform as quickly as feasible following scientifically-established processes."
An image of some of the proposed rank insignias was shared on the Air Force amn/nco/snco Facebook page.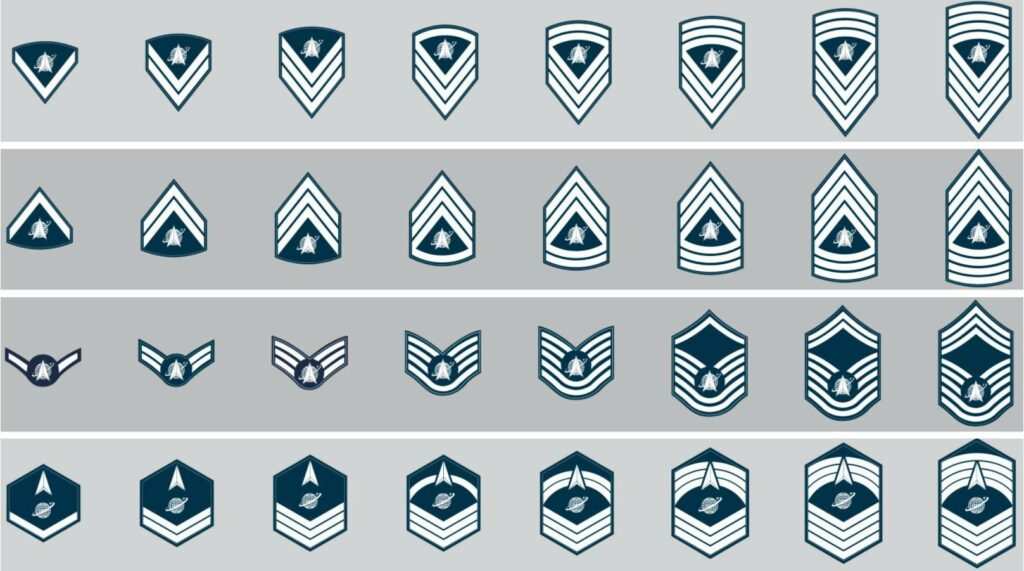 The Space Force asked members to complete the survey, which is being conducted by the third-party market research firm the Fors Marsh Group.
"The purpose of this survey is to gather feedback on potential uniform insignia for enlisted members of the U.S. Space Force (USSF)," the survey introduction states. "This survey is sponsored by the Office of Personnel & Logistics (S1/4) of the USSF and is part of the Secretary of the Air Force Office of Public Affairs' (SAF/PA) series of surveys. Aggregate results from this survey will be used to inform Air Force and Space Force leadership."
Space Force members are provided unique ID numbers to access the survey. The survey is confidential and is not mandatory, but all members are encouraged to take it to provide useful information for the new service.
The service is not currently considering new officer insignias.
The Space Force, which is organized under the Department of the Air Force, has been drawing its first service members from the Air Force ranks and has been using the same uniforms and camouflage patterns worn by Air Force members, though with different colored name tags.
In December, the Space Force began providing members with new badges and lapel pins, to help further distinguish them from Air Force service members.
The Space Force has been gradually developing its service branch iconography and culture in the year since it began.
The service unveiled its service flag in May of 2020.
The service also ran its first television recruitment advertisement in May and in July, the service also unveiled its logo and motto, Semper Supra, the Latin phrase for "Always Above."