Iranian Foreign Affairs Minister Mohammed Javad Zarif is currently on tour in Latin America, making stops in 6 countries to meet with their high-ranking officials.  The countries include Bolivia, Chile, Cuba, Ecuador, Nicaragua, and Venezuela.
What is believed to be the common denominator in all 6 countries is that they've assisted or have been involved in supporting Hezbollah, the terrorist group of Iran, in some capacity.  Zarifs trip leads skeptics to believe his visiting is a way of enhancing Irans terror network in South America, gaining greater access to the United States.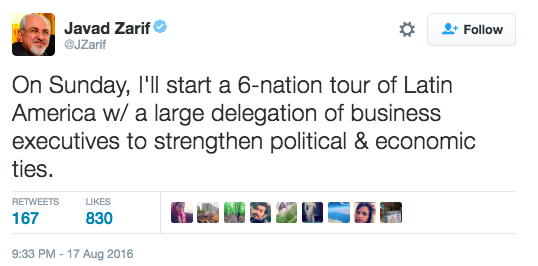 "Now the time is ripe for realizing our common goals together and implement the resistance economy in Iran and materialize (Cuban leader Fidel) Castro's goals of reconstruction of Cuban economy," he continued.
According to the report, Zarif repeated multiple times Iran was determined to increase their political and economical relations with not only Cuba, but all around Latin America.
Zarif took a moment to criticize the United States and note that both Cuba and Iran have fought against sanctions from the U.S. and although the Obama Administration has been more lenient on them, its still a constant fight.
"Iran has always been beside the Cuban government and nation," he said.  "It is for more than 50 years that the Cubans have resisted the oppressive pressures and sanctions of the US; despite the visit by US President (Barack Obama) to Havana, the sanctions have been eased a bit, but they are still in place."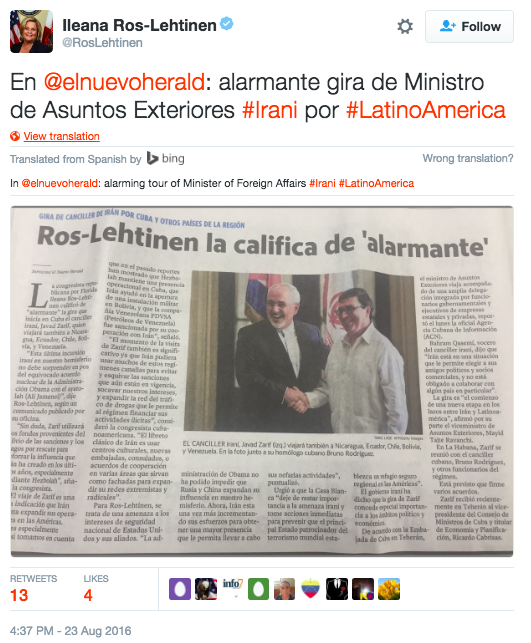 U.S. Rep Ileana Ros-Lehtinen, Chairman of the Subcommittee on the Middle East and North Africa, released a statement on her Government website regarding Zarifs Latin American tour.  In the statement, Ros-Lehtinen says, "Iran's latest inroads into our Hemisphere should come as no surprise in the wake of the Obama administration's misguided nuclear deal. Flush with cash from sanctions relief and ransom payments, Zarif will no doubt seek to bolster the foothold Iran has been building in recent years, especially through its terrorist proxy Hezbollah."
She continues by saying "Zarif's trip is a clear indication of Iran's intent to expand its operations in the Americas."
Zarifs Latin American tour kicked off during the same week that the State Department issued a travel warning advising Americans not to travel to Iran because the regime is actively detaining U.S. citizens.  Iran has also recently confirmed they are beginning to build two new nuclear plants in Tehran which, while controversial to civilians, are within the rules of the Joint Comprehensive Plan of Action (JCPOA) more commonly known as the Iran Deal.
With the ease at which aliens can cross the Mexican border into the U.S., the ability that Hezbollah would have to enter the country potentially undetected is alarming.  Critics are concerned with the amount of leniency that has been given to Iran by the Obama Administration to not only build themselves into a world nuclear power, but to ease their efforts in looking to spread terror throughout the world and specifically the United States.
[revad2]