The Washington Free Beacon obtained information directly from Government officials confirming that Iran has received permission from the Obama Administration to build two nuclear plants in Tehran.  According to an Iranian source, the Mehr News Agency, Iran's top nuclear official, Ali Salehi, revealed that Iran has already invested $10 billion dollars in the two sites following orders from President Hassan Rouhani.
Salehi, the head of Atomic Energy Organization of Iran (AEOI), used the opportunity to condemn the West in it's efforts to stop Iran from becoming a nuclear power.  Salehi was quoted saying "their problem is not with our armaments, economy, technology, trade, or even science. Their problem is with the Iranian nation; they are worried about the message of the Islamic Revolution reaching across the world."
"The US has settled its scores with its potential rivals but Iran has stood up against it," Salehi said. "This is a serious political challenge that does not form in vacuum and requires producing content and ideologies."
Salehi also revealed that none of the billions in funding will come from major European banks because the U.S. has pressured them not to fund the project.
A State Department official, who wished to remain anonymous as they were not authorized to speak on record, told the WFB that the plans for these plants fall in line with last years nuclear deal because the agreement doesn't forbid this kind of nuclear construction, stating "the [nuclear deal] does not prevent Iran from pursuing new light-water reactors." and that "any new nuclear reactors in Iran will be subject to its safeguards obligations."
Another anonymous source, who is identified only as a senior Congressional advisor, told the WFB that this is more evidence that the Obama Administration is making a huge effort to make Iran into a full blown nuclear power. They said the Obama Administration "seems committed to making Iran into a nuclear power," continuing that they've "purchased heavy water from the Iranians, as if the Iranians were legitimate nuclear suppliers, which they're not. They've made excuses for Iran seeking to procure nuclear parts from Germany and elsewhere. And now they're celebrating Iran building full-blown reactors."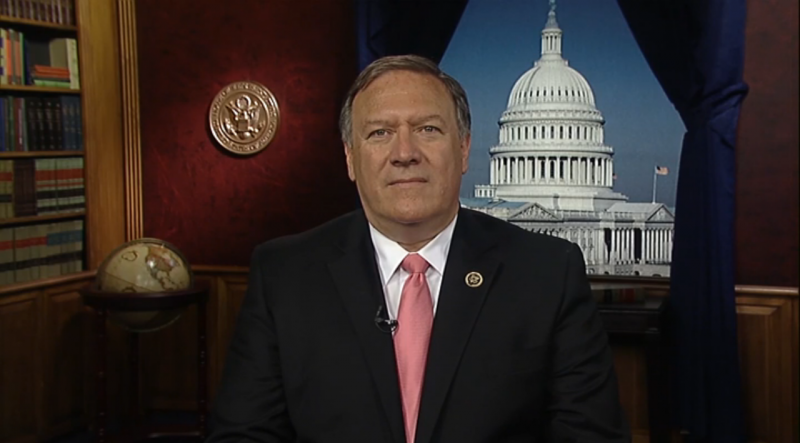 During an interview with American Military News on the one year anniversary of the Iran Deal, Congressman Mike Pompeo  from Kansas told AMN that he and other two other congressmen were denied visas to oversee Iran's nuclear sites themselves, stating  "were were notified they were not gonna let three members of Congress in, and in spite of the fact that they had now let many American business people come visit Iran," he said. "It's completely unacceptable."
He continued that the lack of transparency in the nuclear deals with Iran is troubling and prohibits the elected officials from doing their part in trying to protect the American people, stating "when it's the case that you are trying to negotiate further arrangements with our government, you're trying to get our government to help you accomplish many of the tasks that Iranians want done to let members of Congress who have the duty to spend money and to spend it responsibly on behalf of the tax payers to let them go see what's really going on."
[revad2]