Former Secretary of State Mike Pompeo mocked Chinese leader Xi Jinping with a reference to his most-hated cartoon character in a new video message directly addressing the Chinese people.
In a Sept. 14 video for the Hudson Institute foreign policy think tank, Pompeo launched what he the first in a series of video messages directly addressing the Chinese people. As Pompeo spoke, he raised a "Winnie the Pooh" coffee mug in a not-so-subtle reference to popular memes comparing Xi to the iconic children's cartoon teddy bear.
The memes comparing Xi to Winnie the Pooh have been so persistent that Chinese government censors have widely banned references to the cartoon character.
As Pompeo raised his coffee mug at the start of the video, the camera operator zoomed in on the mug, emphasizing the obvious personal reference to Xi.
The Winnie the Pooh reference would not be the first time Pompeo has included specific references to China in his photo and video appearances. In an April 2021 tweet, Pompeo shared a photo of himself snacking on dried pineapple from Taiwan. The tweet came amid a #freedompineapple social media campaign in response to a Chinese ban on imports of Taiwanese pineapple.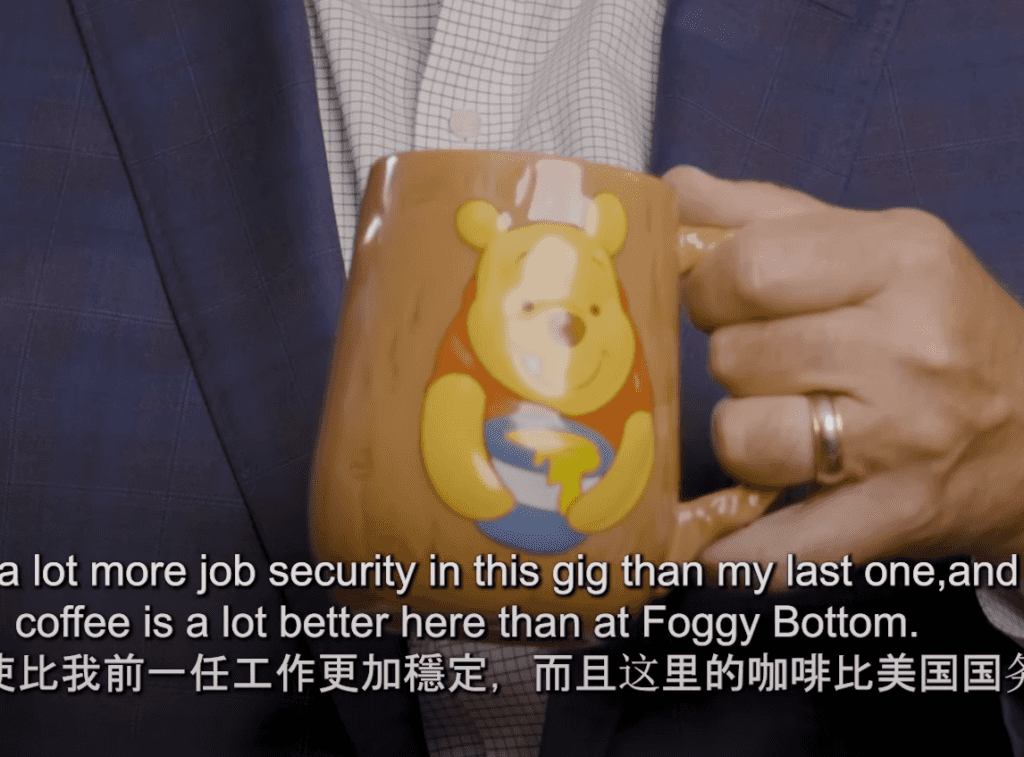 "Our goal with these videos is pretty simple: It's to talk to the Chinese people about U.S.-China relations," Pompeo said. "And that's what we'll start doing with this series over the next few months; and we'll keep it up.
The first video in this new series was titled "The Chinese Communist Party Does Not Represent The Chinese People." The video contained both English and Chinese captions for viewers.
"There's a reason we're doing this. The Chinese Communist party doesn't represent the Chinese people, it's that simple," Pompeo said. "The CCP is a one-party totalitarian political organization committed to a foreign, anti-Chinese ideology. It started out as a group of brutal radical extremists and frankly not much has changed."
"The worst mass murderer in history was Mao; his victims mostly Chinese," Pompeo continued. "The same is true of Deng Xiaoping who murdered pro-democracy protesters in Tiananmen Square. XI Jingping continues that communist legacy even today. There is no bigger enemy for the CCP than you the Chinese people."
Pompeo said he's convinced that the CCP's top priority is "maintaining their stranglehold over the Chinese people." He said the CCP hates the U.S. because it is convinced that the Chinese people will become inspired by the U.S. as a symbol of freedom.
Pompeo said the CCP is lying if it's claiming to represent the majority of Chinese people, "and I think the CCP knows it's a lie."
"If Beijing thought it represented the Chinese people it wouldn't spend more on domestic repression and surveillance than it does on external defense," Pompeo concluded. "If the a CCP represented the Chinese people it would hold a free and fair election tomorrow, but it won't. The so-called People's Republic seems to have a problem with its own people."