August 30 marks the one year anniversary of the final day of President Joe Biden's disastrous withdrawal and evacuation from Afghanistan, during which 13 U.S. troops were killed, thousands of Americans were left stranded behind enemy lines, and billions of dollars worth of military equipment was abandoned. 
ALERT: U.S. government says non-human UFOs are real
The final military plane departed the Kabul airport on Aug. 30, 2021, concluding a final two-week-long evacuation. The withdrawal left the facility in the Taliban's control and ended the United States' involvement in the 20-year war in Afghanistan.
"I'm here to announce the completion of our mission in Afghanistan," Marine Corps General Kenneth McKenzie told reporters in a briefing at the time. "The last C-17 took off at 3:29 pm."
"While the military evacuation is complete, the diplomatic mission to ensure additional U.S. citizens and eligible Afghans who want to leave continues," McKenzie added.
Video posted on Twitter showed Taliban militants in full military combat gear inspecting a hangar moments after the final U.S. military plane departed Kabul.
In the final days of the withdrawal and evacuation, a U.S. Army colonel on the ground at the Kabul airport said U.S. troops were knowingly leaving behind U.S. citizens, according to a series of leaked private texts. In one text, the Army colonel wrote "Yes, we are fucking abandoning American citizens."
Afghans were also seen desperately clinging to the side of a U.S. Air Force C-17 that was packed with Americans and Afghan allies who were being evacuated from Kabul.
Some Afghans eventually fell to their deaths while hanging onto the aircraft, and at least one person was found dead in the C-17's landing gear. The Air Force's Office of Special Investigations ultimately cleared the crew, arguing they worked "during an unprecedented evacuation where resources were constrained to on-going security and evacuation activities."
Thirteen U.S. troops were also killed in a terrorist attack outside the Kabul airport, including 11 U.S. Marines, 1 U.S. Army soldier, and 1 Navy corpsman, the Pentagon said. They were identified as Navy corpsman Maxton Soviak, and Marines Kareem Nikoui, David Espinoza, Rylee McCollum, Jared Schmitz, Hunter Lopez, Taylor Hoover, Daegan William-Tyeler Page, Nicole Gee, Humberto Sanchez, Dylan Merola, Johanny Rosario Pichardo and Army soldier Ryan Knauss.
Despite the deadly and chaotic events on the ground in Kabul, Biden doubled down on his end-of-August withdrawal deadline. After the last U.S. troops left shortly before midnight on the final day, Biden and other members of his administration claimed that just 200 Americans who had been seeking evacuation were still stranded in Afghanistan. 
At the time, Pentagon spokesman John Kirby was dismissive of concerns relating to abandoned Americans, saying that "we have Americans that get stranded in countries all the time."
A report later revealed that as many as 9,000 Americans were left behind during the Biden administration's withdrawal. The report also noted that despite "countless warnings" that the Taliban was going to "swiftly" take control of Afghanistan, the Biden administration "failed to properly plan a coordinated evacuation of U.S. citizens, Afghans, and allied partners."
The Biden administration also left approximately $7.12 billion in military equipment in Afghanistan after the withdrawal that left the Taliban in control, including aircraft, air-to-ground munitions, military vehicles, weapons, communications equipment and more.
A U.S. Army photo shows the last soldier to leave Afghanistan, which was shared by the service on Facebook.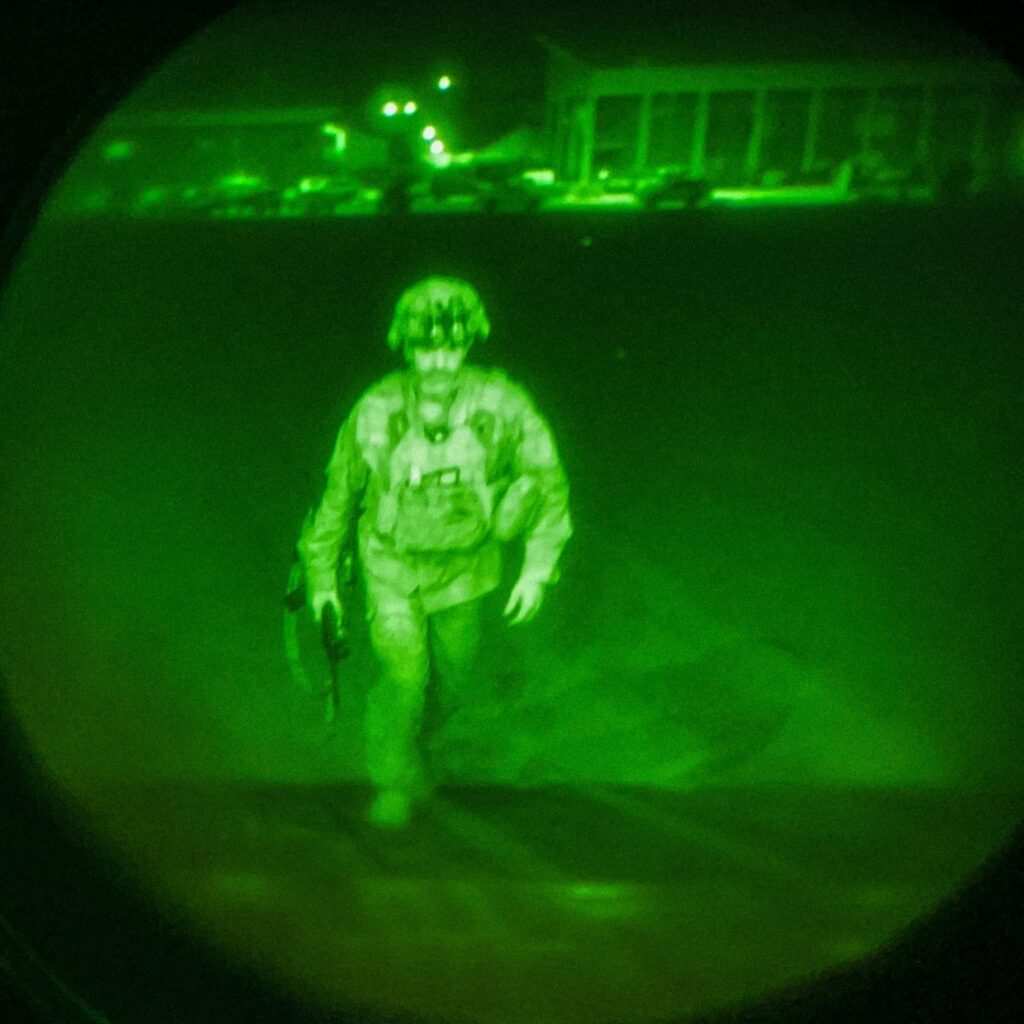 "In awe of our Sky Dragon Soldiers. This was an incredibly tough, pressurized mission filled with multiple complexities, with active threats the entire time. Our troops displayed grit, discipline and empathy," the Army wrote. "Below is a picture of the last Soldier to leave Afghanistan, the commanding general of the 82nd Airborne Division Maj. Gen. Chris Donahue."
Then-White House press secretary Jen Psaki said at the time that President Biden "stands by his decision" to rapidly withdraw from Afghanistan.
"The president stands by his decision to bring our men and women home from Afghanistan," Psaki said.
Biden addressed the end of the U.S. involvement in the war in Afghanistan after the final plane departed Kabul, calling the withdrawal mission that left 13 service members dead, at least 18 more physically injured, and thousands of Americans stranded behind enemy lines an "extraordinary success." The president claimed that 90 percent of those Americans "who wanted to leave were able to leave."
In his speech, Biden touted the unprecedented airlift that evacuated over 120,000 people before adding that the mission is ongoing "for those remaining Americans" in the now Taliban-controlled country. Of the hundreds of thousands evacuated, just 5,400 were Americans.