A U.S. Army photo shows the last soldier to leave Afghanistan Monday night, marking the end to the United States' involvement in the 20-year war in Afghanistan.
"In awe of our Sky Dragon Soldiers. This was an incredibly tough, pressurized mission filled with multiple complexities, with active threats the entire time. Our troops displayed grit, discipline and empathy," the U.S. Army wrote in a Facebook post along with the photo. "Below is a picture of the last Soldier to leave Afghanistan, the commanding general of the 82nd Airborne Division Maj. Gen. Chris Donahue."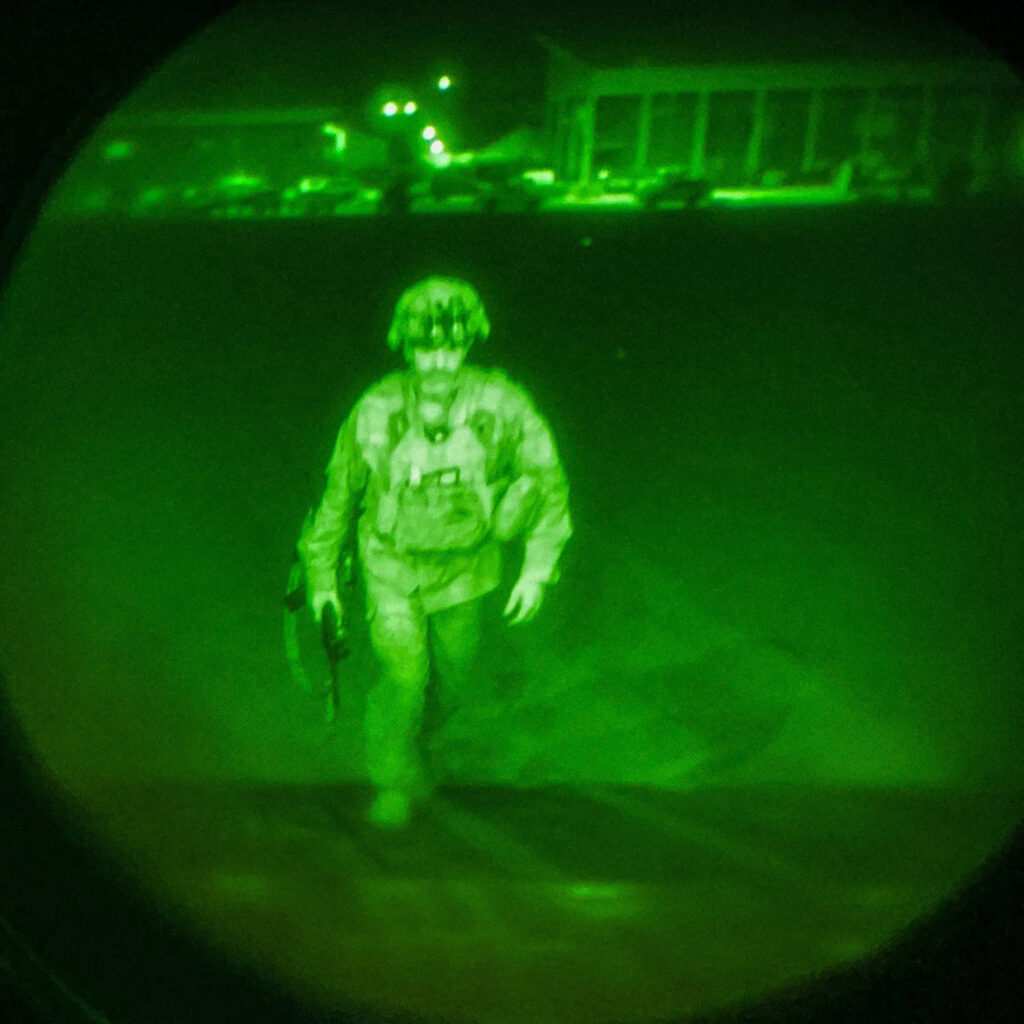 The final military plane departed Kabul Monday, leaving hundreds of Americans, and thousands of Afghan allies, stranded behind enemy lines amid the Taliban takeover.
"I'm here to announce the completion of our mission in Afghanistan," Marine Corps General Kenneth McKenzie told reporters in a briefing Monday, according to NBC News. "The last C-17 took off at 3:29 pm."
"While the military evacuation is complete, the diplomatic mission to ensure additional U.S. citizens and eligible Afghans who want to leave continues," McKenzie added.
The final flight took place around midnight local time, meeting the August 31 deadline set by President Joe Biden earlier this year, just ahead of the 20th anniversary of the deadly terrorist attacks on September 11, 2001.
White House press secretary Jen Psaki said the president "stands by his decision" to rapidly withdraw from Afghanistan. According to a senior State Department official, at least 250 Americans remain in Afghanistan.
"250 Americans are still in #Afghanistan, unable to make the last flights out — per senior @StateDept official speaking to @MarquardtA," tweeted Charles Lister, a Middle East Institute Senior Fellow. "Not to mention the 10,000s of SIV-eligible individuals & their families, left behind to a deeply uncertain fate."
Also on Monday, Pentagon press secretary John Kirby said the $85 billion in military equipment left behind by the Biden administration and now in the hands of the Taliban, including Blackhawk helicopters, Humvees, assault rifles and artillery pieces, "does not pose a threat to the United States."
"The kinds of equipment we're talking about, while certainly there's a lethality component to it, it doesn't pose a threat to the United States, it doesn't pose a threat to neighboring nations. These are not the kinds of things that the Taliban can make great strategic use out of," Kirby said.
On Tuesday morning, when asked about how the Biden administration will use diplomacy to evacuate stranded Americans still left in Afghanistan, Kirby said, "It's not completely unlike how we do it elsewhere around the world. I mean, we have Americans that get stranded in countries all the time."