The U.S. Army suspended a retired three-star general's consulting contract after he published a tweet that appeared to mock First Lady Jill Biden, USA Today first reported Saturday.
Retired Army Lt. Gen. Bary Volesky was punished after he responded to Biden's June 24 statement about the U.S. Supreme Court decision overturning the 1973 landmark abortion case of Roe v. Wade. Biden reacted to the ruling by tweeting, "For nearly 50 years, women have had the right to make our own decisions about our bodies. Today, that right was stolen from us. And while we may be devastated by this injustice, we will not be silent. We will not sit back as the progress we have already won slips away."
In a since-deleted tweet, Volesky replied, "Glad to see you finally know what a woman is." The tweet appears to mock ongoing debates about gender identity and the definition of a woman.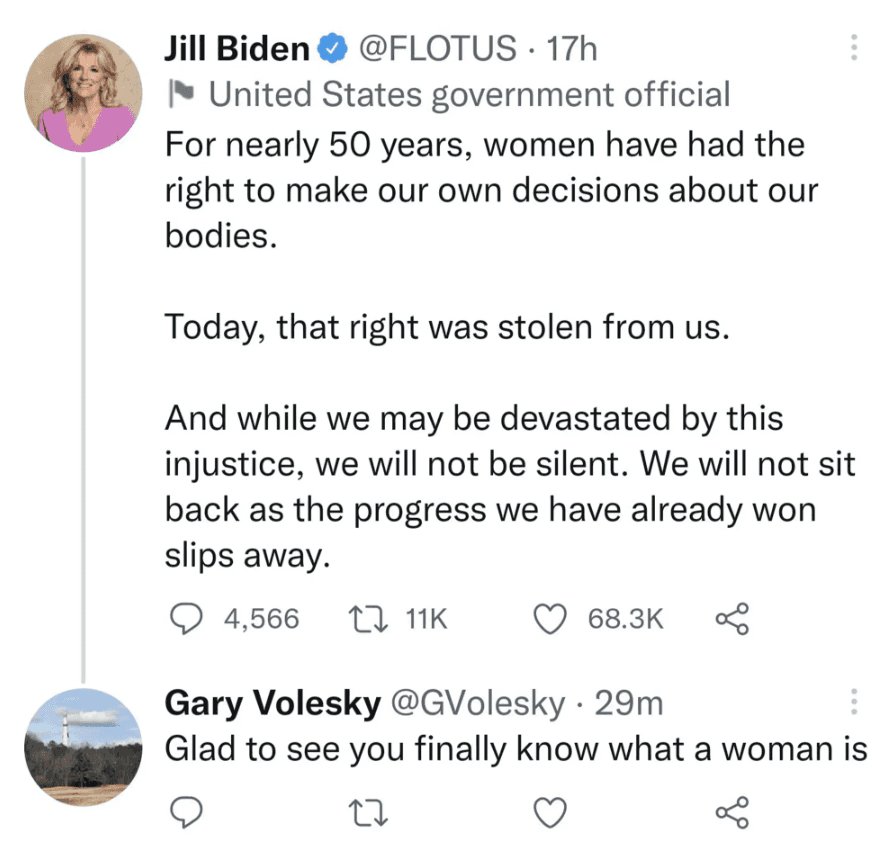 During Justice Ketanji Brown Jackson's Supreme Court confirmation hearing in March, Sen. Marsha Blackburn (R-TN) asked if the judge could define the term "woman." Jackson, who is President Joe Biden's first Supreme Court nominee, replied "I can't . . . Not in this context. I'm not a biologist."
Though Volesky, 60, had retired from active service, he had been contracted by the service to act as a "senior mentor" for senior military officers, staff and students participating in wartime strategy and other military activities.
Army spokeswoman Cynthia Smith told USA Today that Lt. Gen. Theodore Martin, commander of the Combined Arms Center, suspended Volesky, pending the outcome of the inquiry.
Military regulations broadly prohibit service members from making political statements while in uniform. Government employees are also broadly prohibited from political speech during government work hours. A 2020 Department of Defense advisory on political speech states civilian personnel "may generally express their personal views on public issues or
political candidates" on social media platforms like Twitter, but if their accounts identify themselves as DoD employees, they must clearly state that they are expressing their own views rather than speaking on behalf of the DoD. Volesky's Twitter profile doesn't currently identify himself as a DoD employee.
Peter Feaver, a political science professor at Duke University and an expert in civilian-military relations, told USA Today Retired military have the right to express their opinions and tweet whatever they like, but that does not make it right, and the more senior the retired military, the more detrimental to healthy civil-military relations an errant tweet can be."
Feaver said retired officers who are brought on to mentor their still-serving counterparts are held to a higher standard than other retired officers.
Volesky isn't the only retired military officer to draw scrutiny for making politically charged remarks. In 2018, retired Army Gen. Stanley McChrystal called President Donald Trump "immoral." In 2020, retired Navy Adm. William McRaven said "good men and women don't last long" in Trump's administration. Last year, retired U.S. Air Force Gen. and former Bush administration Central Intelligence Agency director Michael Hayden compared supporters of former President Donald Trump to the Taliban and called for sending Trump supporters to Afghanistan as Americans were actively being evacuated from the country.
Before retiring from the Army, Volesky had commanded the I Corps 101st Airborne Division 3rd Brigade Combat Team and 1st Cavalry Division 2nd Battalion, 5th Cavalry Regiment. Volesky led troops in Operation Desert Storm, Iraq and Afghanistan. Volesky received the Silver Star — the third-highest U.S. military decoration for valor in combat — for assembling an ad hoc element of two tanks and 11 Bradley Fighting Vehicles to rescue a convoy of other Bradley vehicles that were being ambushed in the Iraqi city of Sadr in August of 2004.
Volesky's other decorations include the Distinguished Service Medal, Defense Superior Service Medal, Legion of Merit, Bronze Star (4 OLC), Purple Heart (for being wounded in combat), Defense Meritorious Service Medal, Meritorious Service Medal (1 OLC), Army Commendation Medal (4 OLC), Army Achievement Medal (1 OLC), National Defense Service Medal (1 bronze star), Southwest Asia Service Medal (3 bronze stars), Afghan Campaign Medal (2 bronze stars), Iraq Campaign Medal (3 bronze stars), Inherent Resolve Campaign Medal, Global War on Terrorism Expeditionary Medal, Global War on Terrorism Service Medal, the Army Service Ribbon, and the Overseas Service Ribbon (6th Award).