Over the past week, retired U.S. Air Force Gen. and former Bush administration Central Intelligence Agency director Michael Hayden compared supporters of former President Donald Trump to the Taliban and backed a call to send unvaccinated Trump supporters to Afghanistan.
On Thursday, Hayden retweeted a photo that compared Trump supporters in the U.S. to the Taliban. The image showed ISIS militants in pickup trucks with a caption reading "Their Taliban" above a second image of trucks flying both Trump flags and American flags with a caption reading "Our Taliban."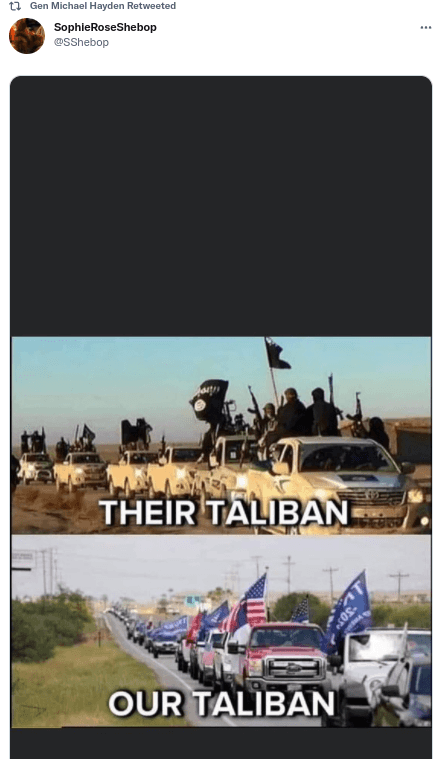 Hayden renewed his attack on Trump supporters on Sunday, when another Twitter user tweeted, "Can we send the MAGA wearing unvaxxed to Afghanistan, no use sending that plane back empty?"
Hayden backed the user's suggestion by retweeting it and saying, "Good idea."
Hayden, a retired four-star Air Force general also served as director of the National Security Agency, and principal deputy director of National Intelligence before heading the CIA. Hayden served as the CIA director until February 2009, shortly after President Barack Obama took office.
The tweet exchange comes as U.S. forces have been coordinating evacuation flights out of Afghanistan, where tens of thousands of U.S. citizens and Afghan allies remain after the Taliban rapidly seized near-total control of the country.
Hayden's endorsement of sending Trump supporters to Afghanistan prompted criticism from Rep. Jim Banks (R-IN), a U.S. Navy Reserve officer who has deployed to the country.
Banks responded directly to Hayden's post, tweeting, "Sad and unbecoming even from you, Mike."
Rather than responding directly to the congressman, Hayden retweeted a Twitter user who said, "Mr. Banks, General Hayden doesn't need to hear from you."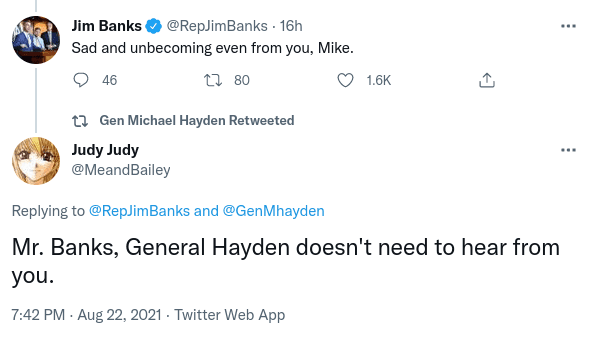 Also responding to Hayden, journalist Gleen Greenwald tweeted, "George Bush and Dick Cheney's former CIA/NSA Director — and current CNN favorite — endorsing the idea that people who wear MAGA hats and aren't vaccinated should be forcibly shipped to Afghanistan. The US intelligence community has always been led by sociopaths."
A 2014 Senate report accused the CIA of providing inaccurate information to lawmakers on the Senate Intelligence Committee while Hayden led the agency.
"Prior to September 6, 2006, the CIA provided inaccurate information to the leadership of the Committee. Briefings to the full Committee beginning on September 6, 2006, also contained numerous inaccuracies, including inaccurate descriptions of how interrogation techniques were applied and what information was obtained from CIA detainees," the 2014 report states. "The CIA misrepresented the views of members of Congress on a number of occasions. After multiple senators had been critical of the program and written letters expressing concerns to CIA Director Michael Hayden,
Director Hayden nonetheless told a meeting of foreign ambassadors to the United States that every Committee member was 'fully briefed,' and that '[t]his is not CIA's program. This is not the President's program. This is America's program.' The CIA also provided inaccurate information describing the views of U.S. senators about the program to the Department of Justice."
The 2014 report alleged that, when Hayden was preparing to deliver an early intelligence briefing for senior aides to newly elected President Obama in 2009, he instructed a subordinate to conceal the true number of detainees in the CIA's enhanced interrogation techniques (EIT) program. While the CIA has represented in public and classified settings that
it detained "fewer than one hundred" individuals, the Committee's review of CIA records indicates that the total number of CIA detainees was at least 119.
A CIA officer wrote to himself in an email that Hayden "instructed me to keep the detainee number at 98 — pick whatever date i needed to make that happen but the number is 98."