The U.S. Navy this week revealed the cause of the August 2021 MH-60S Seahawk helicopter crash that killed five sailors after the aircraft crashed into the deck of an aircraft carrier and fell into the sea.
In a statement provided to American Military News late Tuesday, the Navy said it had concluded its investigation on April 18, which showed the crash on Aug. 31, 2021, was "caused by an in-flight failure of a damper hose, resulting in total loss of the main rotor damping which led to severe vibrations upon touchdown."
"The investigation found that there is no evidence that pilot or aircrew error was a causal factor in the crash," the statement added.
A Navy safety report published a week after the crash had said the helicopter experienced "side-to-side" vibrations when it landed on the aircraft carrier USS Abraham Lincoln, causing its main rotor to strike the flight deck and the helicopter to crash over the side of the ship. At the time, it was not clear what caused the vibrations.
The investigation also revealed that only two of the six crew members' Survival Egress Air (SEA) bottles were turned on, indicating that preflight inspections were not performed adequately.
Further, the crew's LPU-37A/P Life Preserve Units malfunctioned. The investigation said "improper CO2 cartridge installation" could not be ruled out as a factor in one LPU failure, and another LPU failure was found to be caused by "inconsistencies relative to specifications, maintenance requirements, and expected conditions." The findings "casts doubt on the functionality and reliability of LPU-37A/P and LPU-34B/P" gear, the report said.
The five sailors killed in the crash included Lt. Bradley Foster, 29, from Oakhurst, Calif. Lt. Paul Fridley, 28, from Annadale, Va., Naval Air Crewman 2nd Class James Buriak, 31, from Salem, Va. Hospital Corpsman 2nd Class Sarah Burns, 31, from Severna Park, Md. and Hospital Corpsman 3rd Class Bailey Tucker, 21, from St. Louis, Mo.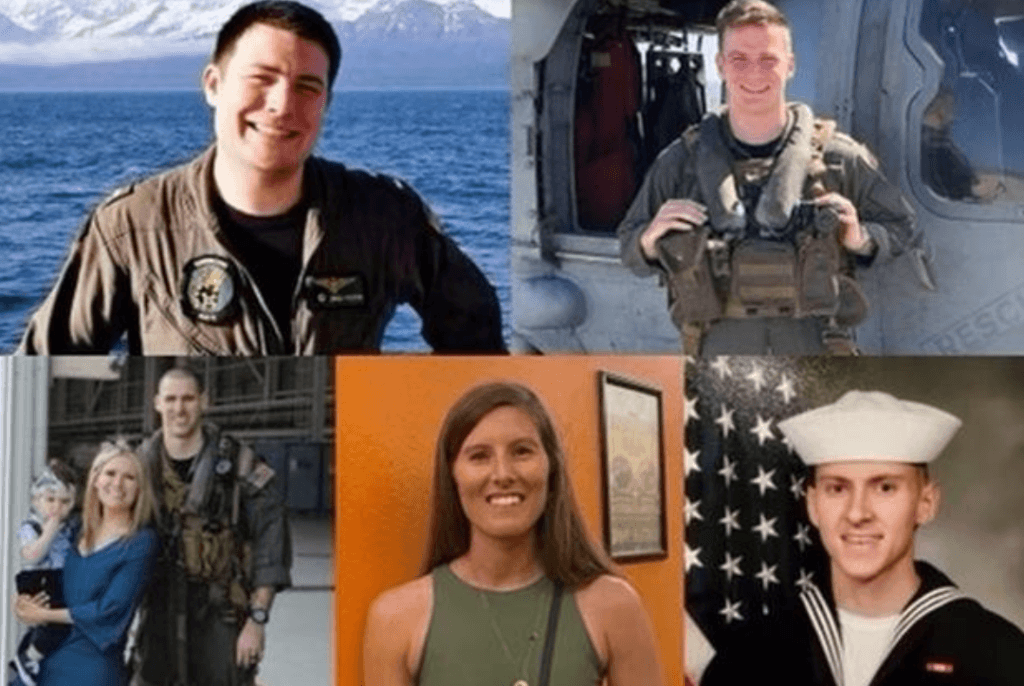 One crew member was rescued alive. Efforts to rescue the five fallen crew continued from August 31 until September 4, when the five missing sailors were declared dead.
Their remains were recovered from 5,300-feet underwater in October – more than five weeks after the crash.
The helicopter and its crew were assigned to Helicopter Sea Combat Squadron 8, based at Naval Air Station North Island. The crash occurred about 60 nautical miles from San Diego.
The Abraham Lincoln was conducting routine operations with its air wing in preparation for a scheduled deployment early next year, the Navy said.