A pair of car-sized balls of light stalked the amphibious assault ship USS Kearsarge during an October 2021 encounter, according to a retired U.S. Marine Corps pilot who spoke with long-time Unidentified Flying Objects (UFO) researcher Dave Beaty last week.
In a post on his blog last week, Beaty described the account from the Marine veteran whose sources were sailors aboard the ship at the time of the encounter. Beaty has documented other UFO sightings, including a 2004 encounter with the aircraft carrier USS Nimitz that the Navy has since confirmed is real. Beaty has also filed successful Freedom of Information Act (FOIA) requests seeking information about encounters with UFOs, or Unidentified Aerial Phenomena (UAP) as the U.S. military now refers to them.
USS Kearsarge was training in the Atlantic in October in preparation for deployment of the 22nd Marine Expeditionary Unit (MEU). The Marine veteran said the warship was sailing in waters off the east coast of the U.S. when it observed the UFOs for several nights in a row. The UFOs followed the warship through an area along the coastline adjacent to Marine Corps Air Station Cherry Point and Marine Corps Base Camp Lejeune, North Carolina, and possibly as far north as Virginia Beach. The balls of light were estimated to be flying at about 200 feet above the water, about half a mile behind the U.S. warship and performing "shackle turn" maneuvers, which entail a pair of aircraft crossing each other's flight paths.
The Marine source said those aboard USS Kearsarge considered the encounter to be an evolution in their pre-deployment training and assumed the balls of light were a pair of drones. Marines on board the ship had reportedly already brought a pair of anti-drone systems to the ship's deck. Those anti-drone systems were the Ground-Based Air Defense (GBAD) Counter-UAS system and the vehicle-mounted Light Marine Air Defense Integrated System (LMADIS).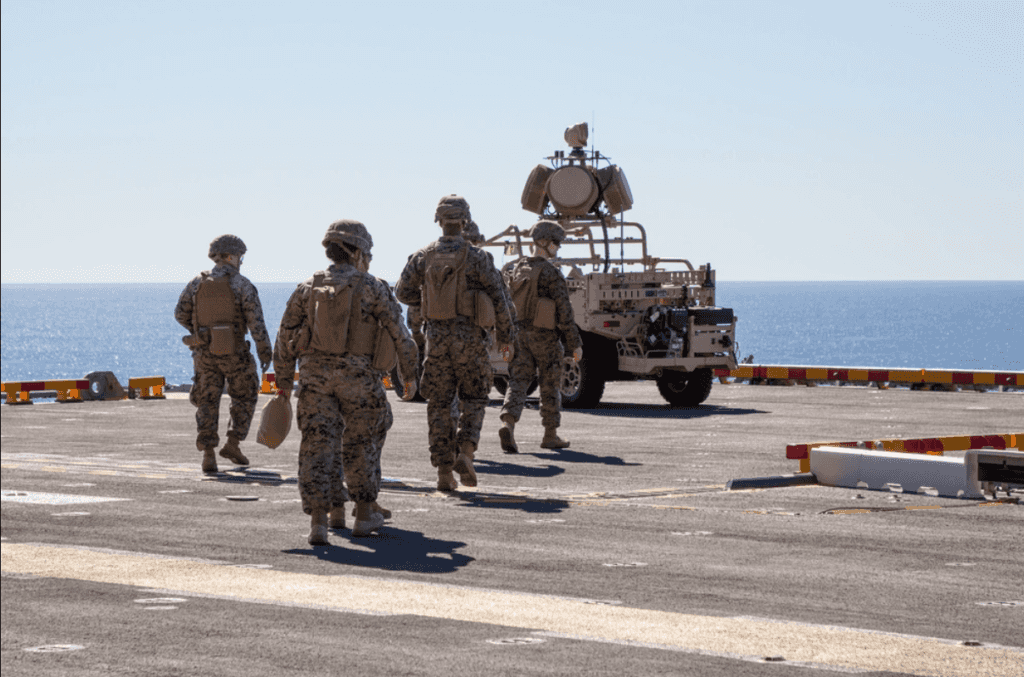 The GBAD and LMADIS anti-drone systems use radio-frequency jamming technologies to knock out unmanned aerial vehicles.
According to the Marine source, the Marines used the anti-drone systems but they did not affect the UFOs in any way and they continued to follow the warship.
The Marine source said USS Kearsarge then contacted its headquarters and asked if either the Navy or Marines were conducting any drone operations near the ship. The reply came back, "Not ours."
Beaty said he is working to verify more details about the encounter and has filed another FOIA request specific to the incident.
The U.S. military has acknowledged the existence of UFOs or UAPs and formed a task force in 2020 to study the sightings, known as the Unidentified Aerial Phenomena (UAP) Task Force (UAPTF).