The United States Space Force unveiled its official rank insignia and dress uniform design prototypes this week at the Air Force Association Air, Space, and Cyber Conference in National Harbor, Md.
Chief Master Sergeant of the Space Force Roger A. Towberman shared images of the insignia on Monday, writing, "Thank you for being a part of your future! Semper Supra United States Space Force #OneTeamOneFight #Guardians #enlisted #rank #insignia."
The design mimics those of the United States Air Force, featuring a blue and white color scheme and stripes in a nod to Gen. Hoyt Vandenberg, the second chief of staff of the Air Force, who recommended stripes for junior enlisted airmen, the insignia information sheet explained.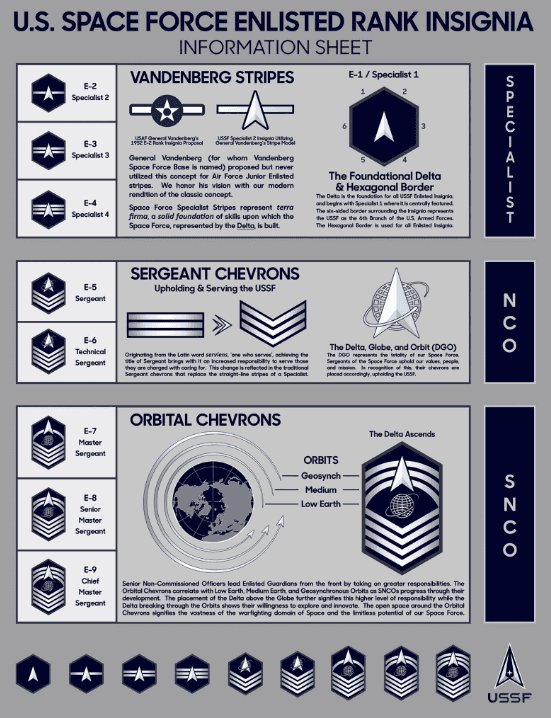 "We honor his vision with our modern rendition of the classic concept," the info sheet stated.
The "delta" shape is centrally featured throughout the ranks, a design feature revealed last year that prompted comparisons to the famous "Star Trek" logo.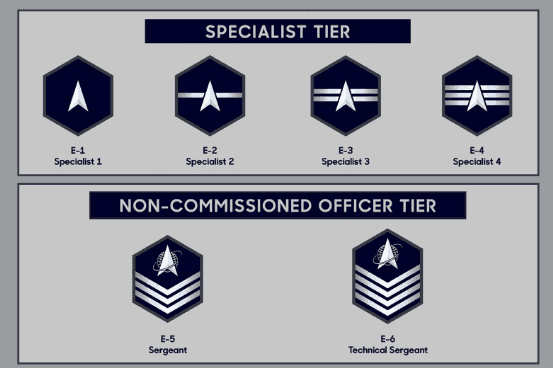 Similar to the Marine Corps' "Eagle, Globe, and Anchor," the Space Force has the "Delta, Globe, and Orbit," which the branch stated, "represents the totality of our Space Force."
Senior Non-Commissioned Officers insignia includes "orbital chevrons" that "correlate with Low Earth, Medium Earth and Geosynchronous Orbits."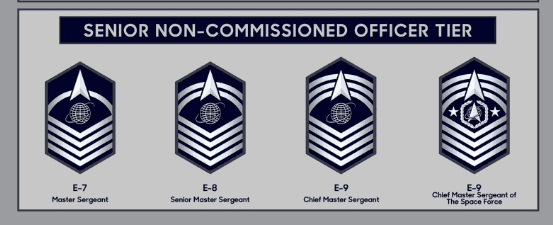 "The placement of the Delta above the Globe further signifies this higher-level of responsibility, while the Delta breaking through the Orbits shows their willingness to explore and innovate," the information sheet continued. "The open space around the Orbital Chevrons signifies the vastness of the warfighting domain of Space and the limitless potential of our Space Force."
On Tuesday, Space Force also unveiled dress uniform prototypes for its service members.
"Today, @SpaceForceCSO Gen. John W. "Jay" Raymond unveiled the Guardian Service Dress prototype a modern, distinctive, professional uniform during the @AirForceAssoc's #ASC21," the branch tweeted.
Senior Pentagon Correspondent for Defense One Tara Copp posted on Twitter additional photos showing the Space Force uniform prototypes.
".@SpaceForceCSO introduces new @SpaceForceDoD uniform prototypes at #ASC21," Copp wrote.
In March, the U.S. Space Force turned to its members for help in choosing rank insignia.
"We are conducting a scientifically-designed survey to capture Guardian feedback on proposed enlisted insignia designs," Space Force spokeswoman Lynn Kirby said in a statement to American Military News. "The results of the survey will inform the next steps toward finalizing insignia designs. We do not have a deadline for a final decision, rather our priority is to finalize enlisted insignias that appropriately reflect our members and the important mission they perform as quickly as feasible following scientifically-established processes."
In December, Vice President Pence announced the new term for U.S. Space Force members on during an event celebrating the branch's first birthday on December 20. Pence said Space Force members would be called "Guardians."
"It is my honor, on behalf of the president of the United States, that henceforth, the men and women of the United States Space Force will be known as Guardians," Pence announced. "Soldiers, sailors, airmen, Marines, and Guardians will be defending our nation for generations to come."