The United States Air Force announced Tuesday that it will allow airmen to put their hands in their pockets, have scalp tattoos, wear morale patches, and more as part of upcoming changes to dress and appearance standards.
According to a branch press release, the changes are expected to go into effect in October, including allowing men and women to wear morale patches on Fridays and during special events.
"We remain committed to maintaining an iterative approach with our dress and appearance standards," said Lt. Gen. Brian Kelly, Air Force deputy chief of staff for manpower, personnel and services. "During this most recent review we approved several updates fully aligned with our Air Force standards and culture that maintain our focus on warfighting while providing options to meet many of the needs of our Airmen."
The Air Force said the changes come from feedback gathered from the 2020 Uniform Board, in addition to testing and reviews. The complete list of changes will be available once Air Force Instruction (AFI) 36-2903 is published this Fall. It will include over 30 recommendations that were approved by the board.
"We trust our Airmen, (noncommissioned officers) and commanders with incredible resources and significant responsibilities and we'll need to do so even more as we prepare for future conflicts," Kelly said. "We likewise trust they can figure out what it takes and means to maintain standards without specifying exact behavior in every situation."
Also included in the changes is "modernized physical training gear" that features a revised fit and look with improved materials and fabric.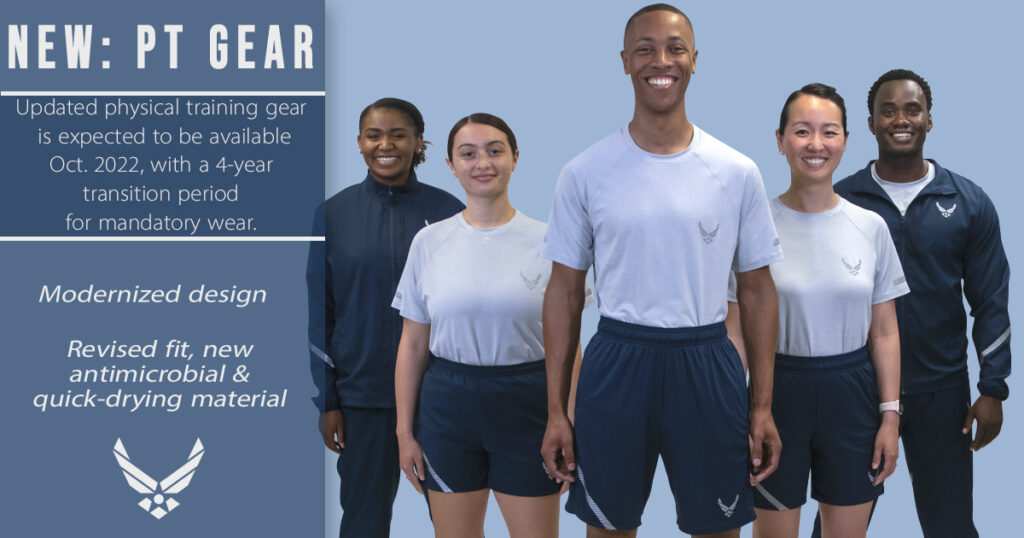 "The fabric includes soft, quick drying, antimicrobial technology that helps with moisture and odor control. The jacket, pants, and men's and women's t-shirts will be available along with new running and all-purpose shorts," the release explained.
The new physical training gear will likely become available in October 2022 with a four-year transition period for mandatory wear.
The newest United States military branch, Space Force, will also follow the AFI updates. The force is still developing service-specific grooming and uniform standards, which will likely be released later this year.
The Space Force released images of Guardian uniforms in January this year. Guardians will wear the same occupational camouflage pattern the Army debuted several years ago. The main difference is the name tapes – the Space Force's is blue, whereas the Army uses black and the Air Force sports brown.
"USSF is utilizing current Army/Air Force uniforms, saving costs of designing/producing a new one. Members will look like their joint counterparts they'll be working with, on the ground," Space Force said. "Space Operators are on the ground, on Earth working with joint partners like the (Air Force) and (Army). Hence utilizing their uniform."