Veteran-owned apparel company American AF created a T-shirt depicting actor and WWE star John Cena as former Chinese Communist Leader and prolific murderer Chairman Mao Zedong, calling him "John Xina" in reference to current Chinese President Xi Jinping. The T-shirt was made to mock Cena for his recent video in which he apologized to China for calling Taiwan a country.
"'Never Quit, Never backdown… and always follow the orders of our Chairman.' – John Xina (probably)," the company wrote in the photo's caption on Facebook, pretending to quote Cena.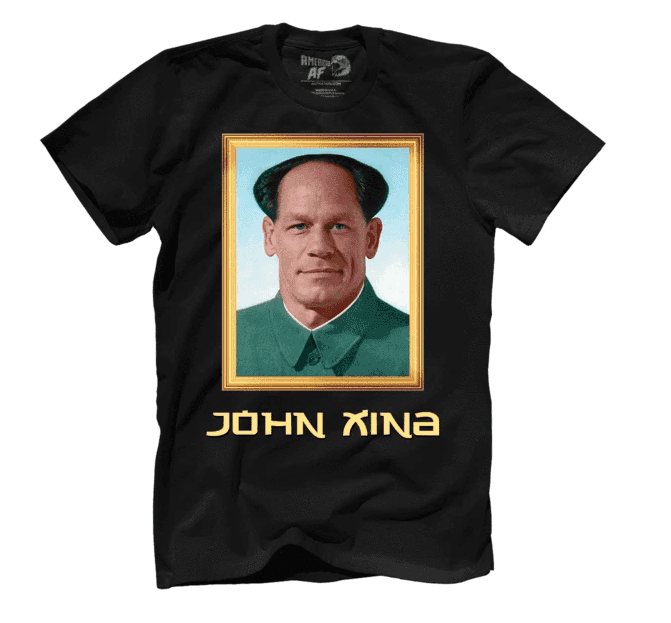 "This shirt says a lot. You have John Cena who looks like Chaiman Xi and that's just pretty damn funny," American AF Founder and former Marine officer Shawn Wylde told American Military News. "I mean, look at his hair."
"The response has been mixed. Pretty much everybody likes the shirt, but we have a few holdouts with male pattern baldness," Wylde added.
The comments on the photo were widely critical of Cena, with one user even calling his apology video "sickening."
"Was sickening to hear him grovel in Mandarin Chinese," the user wrote. "Begging his overlord not to boycott his new movie."
"When [you] give people enough power over you to make you apologize for telling the truth, you have made poor life choices," another wrote.
On Monday, Cena apologized to China for calling Taiwan a country during an appearance in which he was promoting his new film "Fast & Furious 9" in front of Taiwanese audiences.
"Hi China, I'm John Cena. I'm in the middle of Fast and Furious 9 promotions. I'm doing a lot of interviews. I made a mistake in one of my interviews. Everyone was asking me if I could use Chinese – [movie] staff gave me a lot of information, so there was a lot of interviews and information," Cena says in Chinese, according to a translation from the South China Morning Post.
"I made one mistake. I have to say something very, very, very important now. I love and respect China and Chinese people. I'm very, very sorry about my mistake. I apologize, I apologize, I'm very sorry. You must understand that I really love, really respect China and the Chinese people. My apologies. See you."
Late last year, American AF's wildly popular Facebook page – which had over 1.6 million followers – was permanently banned from the platform just weeks before the presidential election between Joe Biden and Donald Trump.
A Facebook representative said the brand was promoting merchandise with "'Trump' and 'Keep America Great' branding in a misleading way – namely that this was official Trump merchandise, affiliated with the Trump campaign.'"
Wylde said his company has never claimed to promote official Trump campaign merchandise, accusing Facebook of targeting his business for selling Trump merchandise. Wylde's art doesn't only parody or draw attention from Republicans – he has designs featuring notable Democrat figures such as former presidents Barack Obama and Bill Clinton.