UPDATE, 4/22: Following backlash about Lebron James original, deleted, tweet, James tweeted,
"ANGER does any of us any good and that includes myself! Gathering all the facts and educating does though! My anger still is here for what happened that lil girl. My sympathy for her family and may justice prevail!"
James again tweeted, "I'm so damn tired of seeing Black people killed by police. I took the tweet down because its being used to create more hate -This isn't about one officer.  it's about the entire system and they always use our words to create more racism. I am so desperate for more ACCOUNTABILITY."
—
On Wednesday, basketball player Lebron James tweeted a picture of an officer involved in the fatal shooting of 16-year-old black girl Ma'Khia Bryant, who charged at another girl with a knife. The officer is being credited with helping save the other black girl's life.
In a now-deleted tweet, James said, "YOU'RE NEXT" with an image of an hourglass and the hashtag "#ACCOUNTABILITY."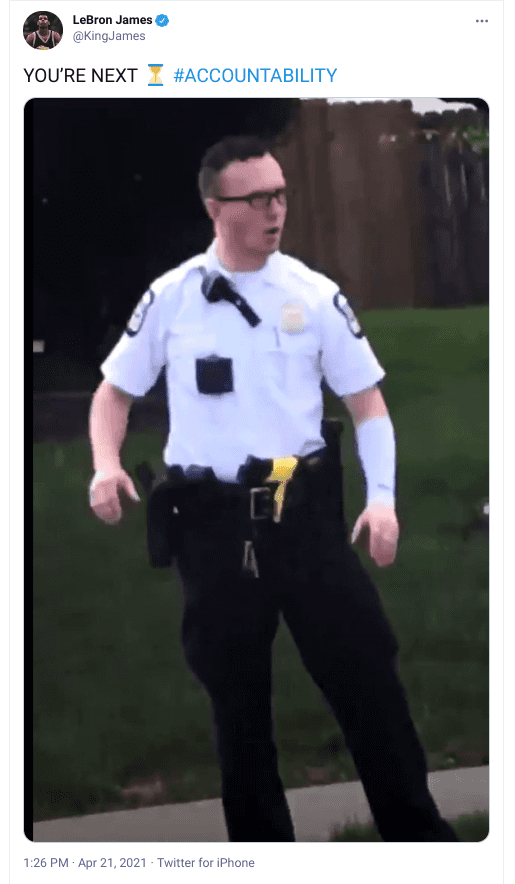 James' tweet came shortly after several media outlets identified Officer Nicholas Reardon as the officer who fired the fatal shots at Bryant on Tuesday night as she raised a knife to another girl.
After Reardon was identified, multiple Twitter users began posting photos purporting to show the officer.
The shooting incident involving Bryant came around the same time on Tuesday night that a jury found former Minneapolis Police Officer Derek Chauvin guilty on all counts for the murder of a black man, George Floyd in May of 2020.
As the photos circulated on Twitter on Wednesday, James shared one of them with the message "YOU'RE NEXT."
Within hours of the shooting, police released the body camera footage of the shooting incident. In the video, an officer can be seen arriving at a residence and asking what is going on, only moments before a teenaged girl, since identified as Bryant, pushes one person to the ground before charging at another person while swinging a knife.
As the incident unfolded, the officer repeatedly shouted "get down" before firing his pistol multiple times at Bryant as she pinned another girl to a car and lunged at her with a knife.
The shooting incident is under investigation and interim Colombus Police Chief Michael Woods said, "Deadly force can be used to protect yourself or the protection of a third person, so that is within policy and that was in the law, that is what the law says. Whether this [shooting incident] complies with [the law] will be part of that investigation."
Columbus Mayor Andrew Ginther also said, "We know from this footage that the officer took action to protect another young girl in the community, but a family is grieving tonight."
Demonstrators gathered at the scene of the shooting incident and around the Colombus Police Department on Tuesday night, following the shooting. The incident has also sparked online debate about whether the cop was justified in his actions.
James was not the only celebrity to speak out on the incident. Earlier on Wednesday, actress Kathy Griffin tweeted, "How in the hell does this police officer think it's a good idea to fire shots blindly into a group of teenagers having a fight. Yes one of them has a knife. Oh, that never happened in your school or neighborhood? She didn't deserve to die."