An officer with the Colombus Ohio Police shot and killed a 16-year-old girl who was charging at another person with a knife in her hand on Tuesday.
The police department released body camera footage of the shooting on Tuesday night within hours of the incident.
In the video, a responding officer arrives at a residence and begins asking what's going on only seconds before the teenaged girl pushes down one person and charges another, pinning them to a car with a knife in her hand. The officer yells four times, "get down" before firing four shots at the teenaged girl.
Following the shooting, a black-handled knife can be seen lying on the ground next to the police shooting victim.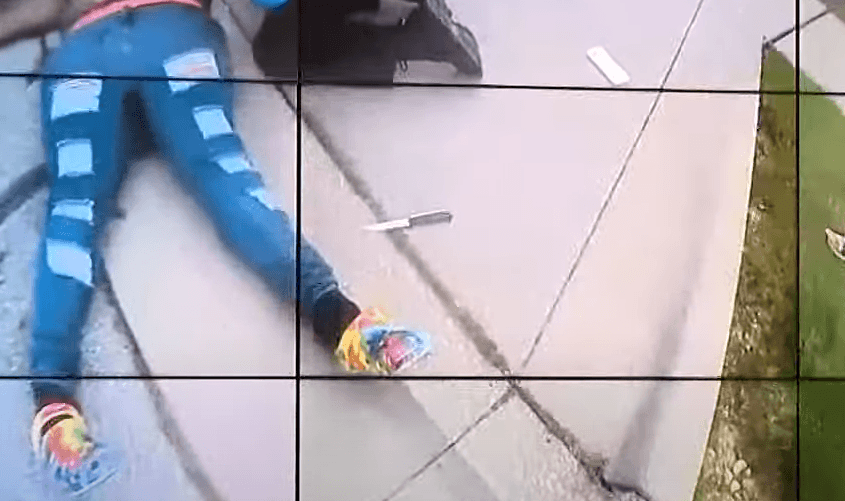 Police did not identify the 16-year-old girl, but her family and Franklin County Children Services identified her to WBNS-TV as Ma'Khia Bryant.
During a Tuesday night press conference, the Colombus Police interim chief Michael Woods said officers were responding to a call at about 4:32 p.m. The caller told emergency dispatchers that "females were there trying to stab them and put their hands on them."
Woods said dispatchers tried to obtain information about weapons, but were unable to get that information.
Following the officer-involved shooting, Woods said officers immediately "assessed the female for her injuries, summoned a medic and began CPR."
During the press conference, Woods showed the body camera footage of the shooting at full speed and again in slow motion.
Woods said the Ohio Bureau of Criminal Investigation is investigating the shooting incident and that the police department will conduct its own administrative review following the completion of the investigation. Woods said the officer who fired the shots has been "taken off the street" while the investigation is ongoing.
"Deadly force can be used to protect yourself or the protection of a third person, so that is within policy and that was in the law, that is what the law says," Woods said. "Whether this complies with [the law] will be part of that investigation
Columbus Mayor Andrew Ginther said, "We know from this footage that the officer took action to protect another young girl in the community, but a family is grieving tonight."
Bryant's mother, Paula Bryant, told WBNS that it was her daughter who called police and that she's "very upset" by the shooting incident.
"My daughter dispatched Columbus police for protection, not to be a homicide today," Paula said.
Following the shooting incident, demonstrators gathered at the scene of the shooting and at the Colombus police department.
 Following the incident, Rep. Joyce Beatty (D-OH) tweeted, "I am at a total loss of words over the tragic killing of 16-year-old Ma'khia Bryant by the Columbus Police. My prayers are with her family and friends. Our community is hurting, has experienced too much heartbreak, and deserves better."