On Tuesday, U.S. coalition and Iraqi security forces confirmed an ongoing operation to clear ISIS forces from an island along the Tigris river.
U.S. Central Command press release described missions by U.S. Air Force F-15 and F-35 fighter jets to bomb the island of Qanus, located within the Salah ad Din Province of Iraq, using nearly 80,000 pounds (36,000 kilograms) of bombs against the suspected ISIS island hideout.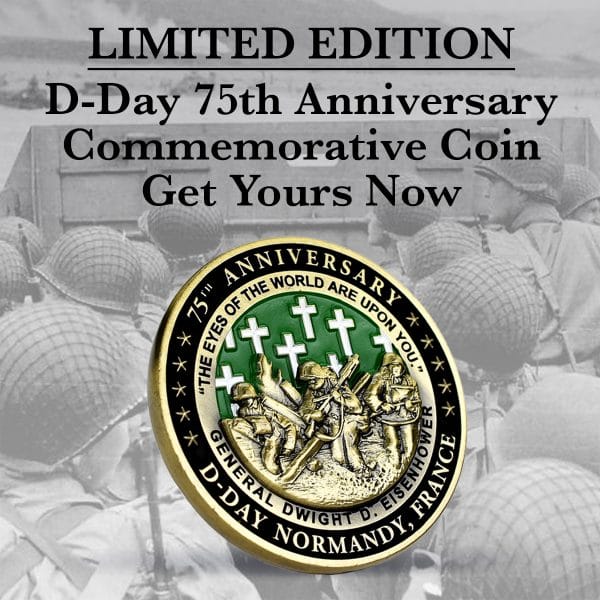 Get your D-Day 75th Anniversary Commemorative Coin Here
The press release was accompanied by a video showing the bombing runs, tweeted by Army Colonel Myles B. Caggins III, a spokesman for the operations. Watch it in the tweet below:
VIDEO: Here's what it looks like when @USAFCENT #F15 and #F35 jets drop 36,000 Kg of bombs on a Daesh infested island. 🛩💥 هكذا تبدوا الجزيرة الموبوءة بداعش بعد أن أسقطت عليها الطائرات المقاتلة #أف-15 و #أف-35 36,000 كغم من الذخيرة pic.twitter.com/2v6FAEL9Rn

— OIR Spokesman Col. Myles B. Caggins III (@OIRSpox) September 10, 2019
Caggins said the airstrikes were coordinated with Iraqi Security forces, and the press release said "follow-on ground clearance operations" were being conducted by 2nd Iraqi Special Operations Forces Battalion.
The airstrikes are part of Operation Inherent Resolve's ongoing mission to defeat ISIS.
Qanus is reported to be a transit hub for ISIS members moving between Syria and Iraqi regions like Mosul, Makhmour, and the Kirkuk.
"We're denying Daesh the ability to hide on Qanus Island," Maj. Gen. Eric T. Hill said.
Hill, the commanding officer of the Special Operations Joint Task Force conducting Operation Inherent Resolve, said the airstrikes would establish "the conditions for our partner forces to continue bringing stability to the region."
Another tweet attached to the press release appears to show Iraqi security forces approach the island by boat.
#عاجل
قوات #جهاز_مُكافحة_الإرهاب
تواصل هُجومها بالزوارق المائية على عناصر تنظيم #داعـش في زور كنعوص
والهدف الأساس هو تطهيرها بشكل كامل وحماية شعبنا من خطر الإرهاب pic.twitter.com/g5ZDqrIUcr

— The Golden Power (@ICTSm33) September 10, 2019
"They continue their attack by water boats on elements of the organization Daesh. In Zour as Na'ous the main goal is to completely cleanse it and protect our people from the threat of terrorism," the translation for the caption reads.
ISIS has reportedly been on the run in recent months, following reports of the loss of its Syrian stronghold in Baghouz. Despite their apparent retreat, U.S. military officials have urged continued pressure on ISIS.
"We can all certainly be proud of the progress that has taken place since 2015 … in terms of clearing ISIS from Mosul, from Raqqa, from Fallujah and so forth, but we also know there is still a fairly vibrant insurgency that has reverted to guerrilla tactics, and so there is still a threat," Marine Corps Gen. Joe Dunford said in July.
Since the fall of their various strongholds, ISIS has also spread away from Iraq and Syria. They claimed credit for a bombing in Afghanistan in June and even alleged plots to sneak members into the U.S. through the Southern border with Mexico.
Those ISIS members remaining in Iraq have continued fighting against U.S. backed forces. One recent unconventional tactic in ISIS' changing methodology included strapping suicide vests to two cows before sending the livestock into a village controlled by Iraqi security forces.