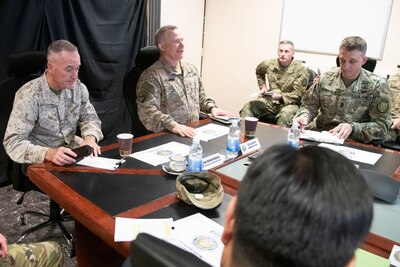 July 27, 2019 —
BAGHDAD, Iraq–There can be no doubt that the strategy to drive ISIS from its so-called caliphate in Syria and Iraq has succeeded, but that doesn't mean the struggle against the ideology is over, the chairman of the Joint Chiefs of Staff said in Baghdad.
Marine Corps Gen. Joe Dunford met with U.S. and coalition leaders in Iraq's capital to discuss the next steps in the strategy to stop the terror group from ever coming back. He met with U.S. Ambassador to Iraq Matthew H. Tueller and Army Lt. Gen. Paul LaCamera, the commander of Operation Inherent Resolve.
The bottom line is the ISIS threat has not gone away, the chairman said.
When Dunford made his first visit to Baghdad as chairman in 2015, Iraqi security forces tanks were positioned at various crossroads in the city in case ISIS fighters attacked. The terror group seemed to come out of nowhere to take eastern Syria and vast stretches of northern and western Iraq. Iraqi forces ran from ISIS and surrendered Mosul, Iraq's second-largest city. The group declared Raqqa, Syria, as the capital of its caliphate and began the effort to turn back the calendar to the seventh century. The group continued to drive into Iraqi Kurdistan and held Ramadi – a city many consider a gateway to Baghdad.
But some units in Iraq stuck together, and U.S. forces and allies came into the country to help those forces become more effective in combat. At the time, many critics said the only way to defeat the terror group was via vast numbers of Western troops – by Western, they meant American. Some believed the United States had to launch another military surge into Iraq.
American political and military leaders believed there was a better strategy. The "train, advise and enable" model was christened, with a small number of American and partner-nation forces instructing Iraqi and Syrian security forces, advising them in combat and providing enabling capabilities to ensure ISIS defeat. The strategy has proven successful, and in March, the physical caliphate was eliminated.
"We can all certainly be proud of the progress that has taken place since 2015 … in terms of clearing ISIS from Mosul, from Raqqa, from Fallujah and so forth," Dunford said in an interview with reporters traveling with him. "But we also know there is still a fairly vibrant insurgency that has reverted to guerilla tactics, and so there is still a threat."
The Iraqi government asked for the assistance in 2015, and it continues to need the aid. Leaders in the country to not want a repeat of the brutal terror group, and they want U.S. and international partners to remain. But this doesn't mean the system will remain static. U.S. officials already have made adjustments to the military presence in Iraq and Syria. American forces have brought in new capabilities to Iraq and Syria and made adjustments to other capabilities that were already in the region.
The physical caliphate is defeated, but ISIS has not disappeared. ISIS has reverted to a guerilla group, with individuals banding together to launch small attacks. Combating this threat requires different skills, and the coalition has changed to mirror the new reality.
In Iraq, the effort requires a long-term partnership, Dunford said. The U.S. footprint at any time is going to reflect what the commander believes is necessary to do the train, advise, enable mission. In addition, the United States will continue to address its own counterterrorism objectives in the region, he added.
"There won't be any big change on any given day," the chairman said. "I think the mission will continue to evolve over time. Officials will assess the situation on the ground and adjust the capabilities as needed. What you can expect to see are constant refinements, but no big change."
Training is a constant for any military formation or organization. In the past in Iraq, the coalition training focused on the institutional base. Now it is the operational force that will receive training after redeploying from combat. "This allows us to get ahead of ISIS," LaCamera said.
Dunford noted that previous efforts to train Iraqi forces were focused on getting capabilities in the field quickly. Officials would marry up tanks and personnel, for example, and they would train for four or five weeks and get sent to a division.
Now, it is a more persistent training effort with operational units, the chairman said: Iraqi security forces need to know how to combat a guerilla group, how to deal with displaced persons, and how to provide services to areas ravaged by conflict.
What needs to happen on the military side is development of an adaptive mind set, LaCamera said. "The mission doesn't change, but we have to be adaptive," he added.
Local forces have proven adaptive, as Iraqi and Syrian forces cleared ISIS from the ground it held. "I believe that what has happened in both Syria and Iraq is a model for training, advising and enabling local forces," Dunford said.
The coalition provided crucial enabling capabilities, "but the heavy lifting — as shown by the casualties — was done by the Iraqi security forces and the Syrian Democratic Forces," the chairman said.
But the enemy has changed as a result of the defeat-ISIS coalition's successes. Dunford said he doesn't believe the fight is over.
"I think we have significantly changed the character of the threat. I think we have disrupted them. We have cleared them. … But we need to realize that this is a long-term campaign, and until the conditions that fed ISIS in the first place are addressed, there is still violence across the Middle East," he said. "And as we know, ISIS is not only just a threat here, but it is a transregional threat."
For more Joint Staff news, visit: www.jcs.mil.
Connect with the Joint Staff on social media:
Facebook, Twitter, Instagram, YouTube,
LinkedIn and Flickr.