The White House has released the transcript on Wednesday of the call between President Trump and Ukrainian President Volodymyr Zelensky, which reveals that Trump did not use military aid as a tool of influence for political gain, as Trump is accused of.
The transcript of the July 25 call showed that Trump asked Zelensky to "look into" the matter of former Vice President Joe Biden and his son, Hunter Biden – after Trump had initially asked Zelensky to look into another matter. The transcript can be viewed in full at the bottom of this story.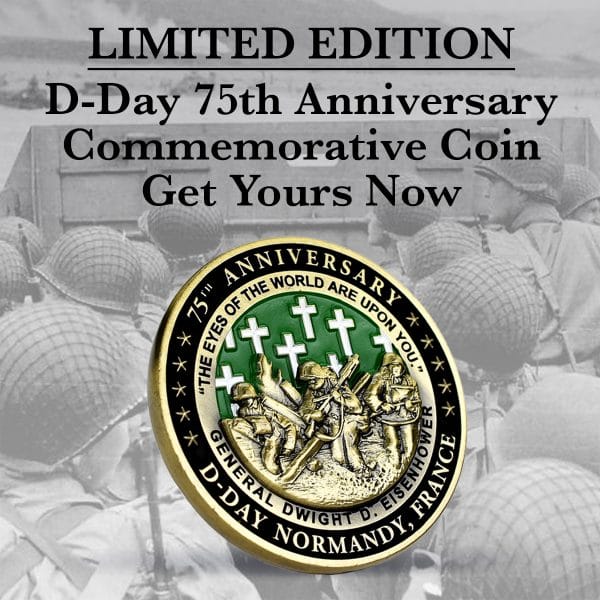 Get the most beautiful D-Day 75th Anniversary Commemorative Coin on the market, here
"I would like you to do us a favor though because our country has been through a lot and Ukraine knows a lot about it. I would like you to find out what happened with this whole situation with Ukraine, they say Crowdstrike," Trump had said during the call, referencing a U.S. cybersecurity company, who he alleged was the source of information regarding election interference.
"I would like to have the Attorney General call you or your people and I would like you to get to the bottom of it," Trump said. "Whatever you can do,  it's very important that· you. do it if that's possible."
Later, Trump briefly mentioned Biden one time.
"The other thing, There's a lot of. talk about Biden's son, that Biden stopped the prosecution and a lot of people want to find out about that so whatever you can do with the Attorney General would be great. Biden went around bragging that he stopped the prosecution so if you can look into it…it sounds horrible to me," Trump added.
Hunter Biden was reportedly paid $50,000 a month as a board member for a Ukrainian energy company that was being investigated for corruption until Joe Biden admittedly threatened to withhold $1 billion in military aid in exchange for the firing of the prosecutor.
Trump mentioned during the call with Zelensky that Rudy Giuliani and Attorney General William Barr would call him, adding "I'm sure you will figure it out."
Critics had alleged that Trump withdrew $391 million in military aid from Ukraine as a tactic of pressuring Ukraine to investigate Biden and his son, Hunter Biden.
On Tuesday, Trump confirmed he withheld the aid in June, but did so before the call took place in July to Ukrainian President Volodymyr Zelensky, claimed the funds were only paused out of unspecified concerns of corruption in the Ukraine and concerns other European allies weren't also helping Ukraine. He added that the funds were eventually paid in full and he made no effort to pressure the Ukrainian president.
Also on Tuesday, Trump ordered the full transcript of the call with Zelensky.
"You will see it was a very friendly and totally appropriate call. No pressure and, unlike Joe Biden and his son, NO quid pro quo! This is nothing more than a continuation of the Greatest and most Destructive Witch Hunt of all time!" Trump tweeted.
….You will see it was a very friendly and totally appropriate call. No pressure and, unlike Joe Biden and his son, NO quid pro quo! This is nothing more than a continuation of the Greatest and most Destructive Witch Hunt of all time!

— Donald J. Trump (@realDonaldTrump) September 24, 2019
Read the full transcript of the Trump/Zelensky call below:
Trump-Zelensky trancript by Breitbart News on Scribd