In the wake of whistleblower complaints that President Donald Trump pressured his Ukrainian counterpart to investigate Democratic presidential candidate Joe Biden, Biden's own past comments may add a new dynamic to a looming political scandal.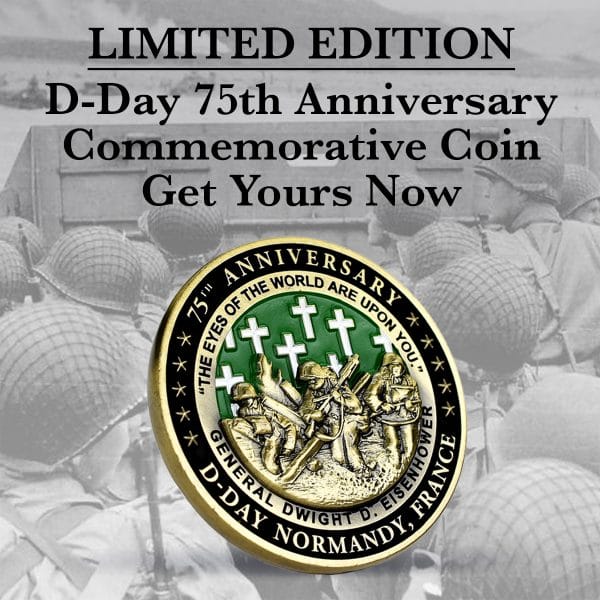 Get the most beautiful D-Day 75th Anniversary Commemorative Coin on the market, here
In a video of his 2018 comments at a panel for the Council on Foreign Relations, Biden seemingly admitted to withholding military aid to Ukraine as a pressure tactic to force the firing of a prosecutor he did not like. Biden's comments may see new scrutiny amid whistleblower allegations Trump improperly called on Ukrainian President Volodymyr Zelensky to investigate Biden.
On Tuesday, Trump repeated denials of allegations he withheld $391 million in military aid during a July call with his Ukrainian counterpart to elicit an investigation of Biden. Trump instead claimed the funds were only paused out of unspecified concerns of corruption in the Ukraine and concerns other European allies weren't also helping Ukraine. He added that the funds were eventually paid in full and he made no effort to pressure the Ukrainian president.
The specific allegations of Trump's alleged pressuring techniques may follow corruption allegations against Biden himself. In Biden's 2018 comments before the CFR panel, the former Vice President appeared to admit to withholding a $1 billion loan agreement for Ukraine while carrying out a 2016 diplomatic visit on behalf of then-President Barrack Obama.
In his panel comments, Biden appeared to suggest he withheld a $1 billion loan guarantee for Ukraine unless Ukrainian government officials agreed to fire a prosecutor investigating the Ukrainian gas company, Burisma Holdings.
Biden said he received a commitment prior to a Ukraine visit, but upon arrival, he learned the prosecutor was still in place. In his comments before the CFR panel, he said he would not release the funding measure unless Ukrainian government officials acted immediately on the matter.
"I said we're not going to give you the billion dollars. They said 'you can't do that, you have no authority, you're not the president,'" Biden remarked. "I said call [President Obama], I told you you're not getting a billion dollars."
Biden said he gave Ukrainian government officials a six-hour window before he would leave Ukraine and said, "If the prosecutor's not fired, you're not getting the money."
"Well son of a bitch, he got fired," Biden continued. "And they put in place someone who was solid."
Adding to the controversy, Biden's son Hunter joined Burisma Holdings' board of directors in 2014, around the time Ukrainian government investigations first began.
Hunter's hiring reportedly came under the approval of the company's owner Mykola Zlochevskiy, according to a 2014 Associated Press report.
Burisma Holdings reportedly came under scrutiny, over its ownership by Zlochevskiy, who served as an ecology minister under then-President Viktor Yanukovych. The company was investigated on allegations it profited from illegal gas production licenses under Zlochevskiy's work as the ecology minister.
In a January 2019 article by The Guardian, a Ukrainian court found Yanukovych guilty of treason in and the former president is currently in exile in Russia, since his ouster in 2014.
Zlochevskiy also eventually fled the country for Russia in 2014, according to Business Insider.
The Democratic-controlled House Committees on Foreign Affairs, Intelligence, and Oversight and Reform, released a joint letter on Sept. 9, alleging Trump unlawfully called on Ukraine to investigate Hunter, which it suggested would be a "staggering abuse of power, a boon to Moscow and a betrayal of the public trust."
The letter called for an investigation into Trump, including a transcript of his July call with the Ukrainian president. The same letter did not allege any wrongdoing in Biden's comments or the actions he described.