Three Army Soldiers Shot & Killed By Afghan Army Soldier Where MOAB Was Dropped; Taliban Takes Credit
A green-on-blue attack has killed three U.S. Army soldiers and injured a fourth.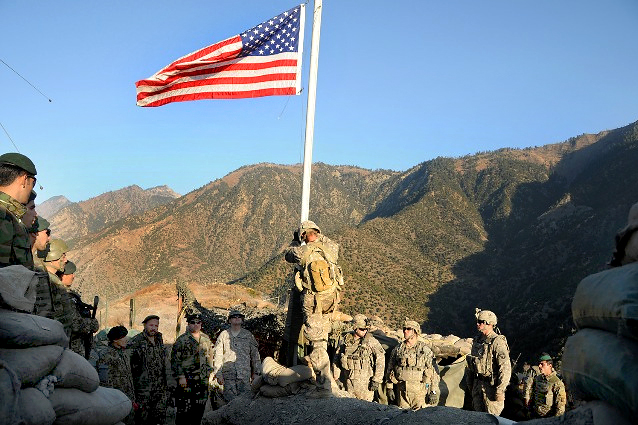 A U.S. Army noncommissioned officer prepares to lower the American flag during a transfer-of-authority ceremony at Observation Post Mace, as U.S. and Afghan National Army troops look on Kunar province, Afghanistan, Dec. 21, 2010. The soldiers are assigned to the 101st Airborne Division's 1st Squadron, 32nd Cavalry Regiment, 1st Brigade Combat Team. OP Mace is the northernmost observation post in Afghanistan's Kunar province, which borders Pakistan. U.S. Air Force photo by Capt. Peter Shinn
On Saturday, an Afghan army soldier killed three U.S. Army soldiers and injured one other when the Afghan soldier opened fire a senior military official told Fox News. Attahullah Khogyani, a spokesperson for the governor of Nangarhar province in Afghanistan first reported the insider attack.
The Afghan soldier was reportedly killed after the attack which took place in Achin, within Nangarhar province.
Achin is the same region where the U.S. dropped the MOAB or the "Mother of all bombs" that targeted tunnels within mountains in the region which is a stronghold of ISIS' regional affiliate. The 22,000-pound bomb was dropped on an ISIS-K cave and tunnel system. ISIS-K refers to the Khorasan group which is located in the Afghanistan-Pakistan region.
Multiple news agencies are reporting that Taliban spokesman Zabihullah Mujahid said in a statement that a Taliban loyalist had infiltrated the Afghan army "just to attack foreign forces."
President Trump has been briefed on the situation White House Deputy Communications Director Raj Shah told Fox News.
This is not the first time that an Afghan soldier has attacked U.S. forces.
In May, three U.S. soldiers were wounded when an Afghan soldier opened fire on Camp Antonik in Afghanistan.
Military.com reports that Navy Lt. Damien Horvath, a spokesman for the U.S. military in Afghanistan "didn't immediately confirm the information" but Lt. Harvath said in an email to Military.com that "We are aware of an incident in Eastern Afghanistan. We will release more information when appropriate."