The U.S. Navy has identified the SEAL who died Sunday when his parachute malfunctioned during an aerial demonstration over the Hudson River as part of New York City's Fleet Week.
SO1 (Special Operator First Class) Remington Peters, 27, was part of the San Diego-based Leap Frogs, an elite Navy SEAL parachute team. The Leap Frogs were conducting a coordinated demonstration over Liberty State Park in Jersey City, New Jersey, around noon when Peters' parachute malfunctioned and he landed in the Hudson River.
Peters was immediately retrieved by U.S. Coast Guard and other personnel who were on-hand supporting the event. He was transported to Jersey City Medical Center, where he was later pronounced dead.
Peters was from Colorado and had been a member of the parachute team for more than a year, according to a release from the Navy. He was a veteran of two combat deployments and had more than 900 jumps.
While apparently caused by an equipment malfunction, the specific nature and cause of the accident is currently unknown, the Navy said. An investigation is underway.
"The Naval Special Warfare Center mourns the death of one of our expert Naval parachutists. Our primary concern now is to provide support and care for his family in their time of need as they being to grieve Remi's death," the release said. "We ask that you respect the family's privacy in their loss […]"
"Our hearts and prayers go out to his family, and I ask for all of your prayers for the Navy SEAL community who lost a true patriot today," said Rear Adm. Jack Scorby, Commander, Navy Region Mid-Atlantic.
Adm. John Richardson, 31st Chief of Naval Operations, tweeted that "we suffered a tragedy in NYC. Thoughts & prayers [with] family & Leapfrog team members."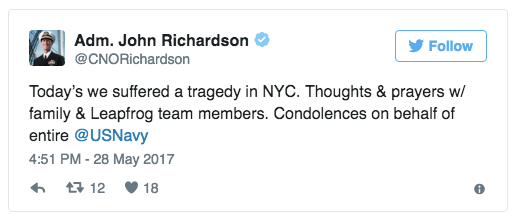 In a statement released this week, Peters' family said, "[h]is accomplishments far outweigh his years. Anyone that has ever had the pleasure of knowing Remi could attest to his fierce loyalty to his friends, family, and his country. He was an angel on earth and role model to all. We couldn't have been more proud of him. He lived life to the fullest and taught us to do the same."
[revad2]