After launching a ballistic missile over the weekend, North Korea also recently warned of more tests to come that could ultimately reach as far as the United States, according to a report.
The Korean Central News Agency (KCNA) said the missile is a "new ground-to-ground medium long-range strategic ballistic rocket" known as the "Hwasong-12," and that it is "capable of carrying a large, heavy nuclear warhead," according to the Associated Press report.
According to the KCNA, North Korean leader Kim Jong Un "witnessed the test and 'hugged officials in the field of rocket research, saying that they worked hard to achieve a great thing,' " the AP reported.
While reports out of Pyongyang, the capital of the Democratic People's Republic of Korea, commonly referred to as North Korea, could be considered propaganda, the reports should also be investigated and monitored until proven otherwise.
The KCNA reported that the missile reached an altitude of 1,312 miles and traveled 489 miles before landing in the Sea of Japan, according to a report in the Washington Examiner.
The missile landed closer to Russia than it did to the United States, and Russian President Vladimir Putin said recently that the country considers the missile test "counter-productive, harmful and dangerous," according to a report in The Sun.
In a statement, the White House said: "With the missile impacting so close to Russian soil – in fact, closer to Russia than to Japan – [President Donald Trump] cannot imagine that Russia is pleased."
The White House said in its statement that North Korea has been a "flagrant menace for far too long."
This is the seventh missile launch by North Korea this year, according to David Wright, co-director of the Global Security Program at the Union of Concerned Scientists, who said the missile could reach a "range of 4,500 kilometers (about 2,800 miles) if flown on a standard, instead of a lofted, trajectory — considerably longer than Pyongyang's current missiles," according to the AP report.
The launch on Sunday could be part of a "new mobile, two-stage liquid-fueled missile North Korea displayed in a huge April 15 military parade," Wright told the Associated Press.
On Sunday morning local time, South Korea's military reported that North Korea launched an unidentified projectile believed to be a ballistic missile, according to previous reports.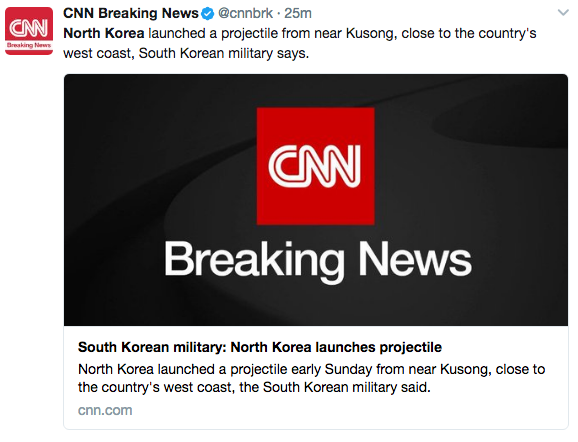 U.S. intelligence has been expecting North Korea to test a KN-17 medium-range ballistic missile.
The Central Intelligence Agency two years ago vowed to create 10 "mission centers" in order to focus on a threat or mission more specifically, according to a recent Defense One article.
The new Korea Mission Center at CIA headquarters launched recently and it "allows us [the CIA] to more purposefully integrate and direct CIA efforts against the serious threats to the United States and its allies emanating from North Korea," according to CIA Director Mike Pompeo, Defense One reported.
This is the first test since South Korea's new President, Moon Jae-in, was elected. He has criticized the deployment of the United States' THAAD missile defense system on South Korean soil and has stated he wants to reconcile with North Korea.
In recent weeks, the Trump administration has accused U.N. Security Council members for not enforcing existing sanctions against North Korea, which the administration says emboldens North Korea as it marches, determined to acquire missiles capable of reaching the United States.
President Trump has been vocal about resolving the North Korean issue through military action or diplomacy.
Surprising some, the President has even expressed a willingness to meet with North Korean leader Kim Jong-un – but only if conditions were right.
[revad2]