On Sunday morning local time, South Korea's military reported that North Korea launched an unidentified projectile believed to be a ballistic missile, according to reports.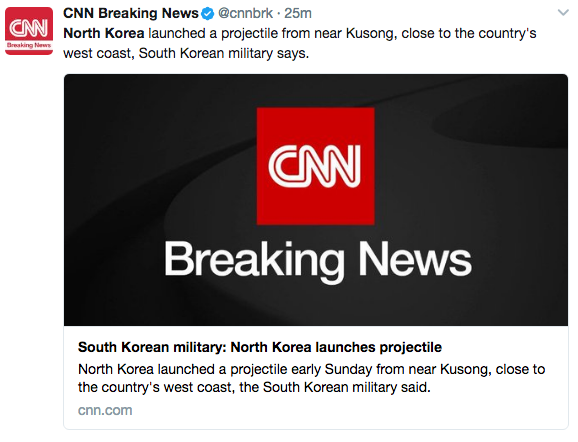 CBS News spoke with U.S. officials who confirmed that a missile was launched.
The missile flew 700 kilometers (430 miles), according to Reuters, and Japan said the missile flew for 30 minutes.
Reuters noted Japan's response:
Japan swiftly issued a protest. Chief Cabinet Secretary Yoshihide Suga said North Korea's firing of a ballistic missile was a violation of U.N. resolutions and that Japan strongly protested the action. Prime Minister Shinzo Abe repeated the protest in comments to reporters.
"North Korea's repeated missile launches are a grave threat to our country and a clear violation of UN resolutions," Abe told reporters, adding Japan will stay in close touch with the United States and South Korea.
U.S. officials are still assessing the launch and what kind of missile was used, according to reports.
U.S. intelligence has been expecting North Korea to test a KN-17 medium-range ballistic missile.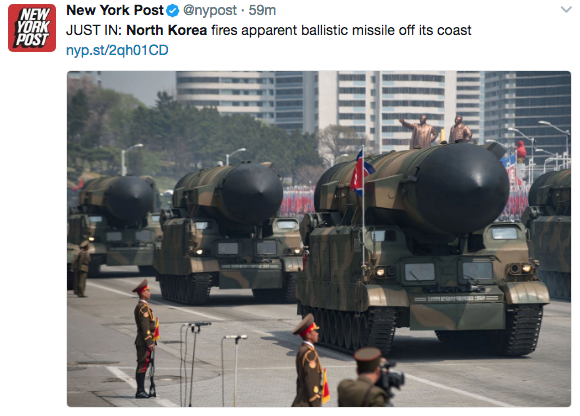 In recent weeks, the Trump administration has accused U.N. Security Council members for not enforcing existing sanctions against North Korea, which the administration says emboldens North Korea as it marches, determined to acquire missiles capable of reaching the United States.
President Donald Trump has been vocal about resolving the North Korean issue through military action or diplomacy.
Surprising some, the President has even expressed a willingness to meet with North Korean leader Kim Jong-un – but only if conditions were right.
Trump told Bloomberg in an interview, "[i]f it would be appropriate for me to meet with him, I would absolutely, I would be honored to do it… If it's under the, again, under the right circumstances. But I would do that [meet with Kim Jong-un]."
Related Article: North Korea Says It Has Detained A Fourth U.S. Citizen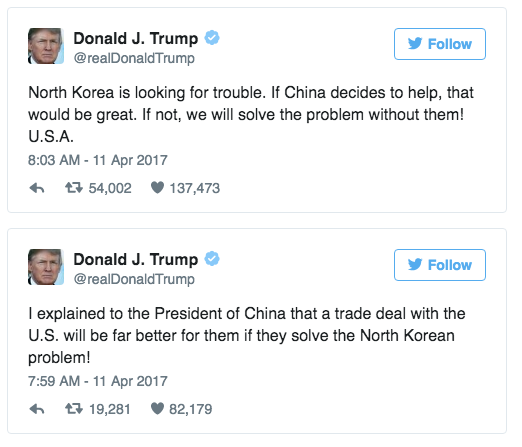 The test took place in the Kusong region where North Korea had previously test-launched missiles, according to reports.
This is the first test since South Korea's new President, Moon Jae-in, was elected. He has criticized the deployment of the United States' THAAD missile defense system on South Korean soil and has stated he wants to reconcile with North Korea.
Related Article: North Korea Is Building Artificial Islands That Could Be Used For Missile Launches
Fox News highlighted that "[i]n a sign of Washington's growing concern about the North, the CIA announced Wednesday its establishment of an integrated 'Korea Mission Center.' It will be headed by a veteran operations officer to harness and direct the spy agency's efforts in addressing the nuclear and ballistic missile threats. The center will draw on officers from across the CIA and 'bring their expertise and creativity to bear against the North Korea target,' an agency statement said."
Related Article: SOCOM Commander: U.S. Commandos Prepared To Counter North Korean Nuclear Sites
[revad2]