The Islamic State is taking credit for the suicide bomber who set off an explosion Monday at Manchester Arena following an Ariana Grande concert, which police said ultimately killed 22 people, including children, and injured 59 people. This is the deadliest bombing in Great Britain in more than a decade, and the Manchester Arena holds 21,000 people.
The suicide bomber has since been identified as 22-year-old Salman Abedi, according to U.S. officials.
The Greater Manchester Police confirmed Monday night that the case is being treated as a terrorist incident, it posted to Twitter.
"We believe at this stage the attack last night was conducted by one man," Greater Manchester Police Chief Constable Ian Hopkins said during a televised news conference. "We believe the attacker was carrying an improvised explosive device, which he detonated, causing this atrocity."
The suicide bomber died in the assault. Police said they were looking for any accomplices, and on Tuesday morning announced they had arrested a 23-year-old man with possible ties to the incident.
Georgina Bethany Callander, 18, was the first victim to be identified. Saffie Rose Roussos was later identified as a victim; she was 8 years old.
On Monday night, there were two "loud bangs" that took place near an entrance hall after Grande finished performing and had left the stage, according to multiple reports. Many concert-goers had already begun leaving.
A vigil is slated for Tuesday evening, and the Greater Manchester Police said on Monday that "[w]hilst the area around Manchester Arena is still cordoned off, we want to remind people that Manchester will not be defeated – the city is open for business."
President Donal Trump tweeted his support for the country on Monday, saying "[w]e stand in absolute solidarity with the people of the United Kingdom."
Grande took to Twitter late Monday night and said she was "so so sorry" about what transpired. Grande's reps had reported the singer was not harmed.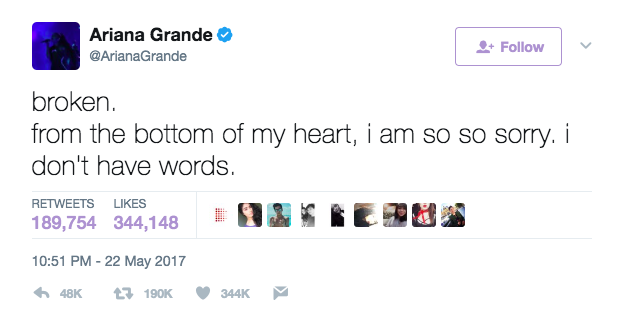 "Broken," she wrote. "[F]rom the bottom of my heart, [I] am so so sorry. [I] don't have words."
The Daily Mail was the first to report on the scene, and concert-goers told the Daily Mail:
"We could hear the police and ambulance sirens. It was terrifying."
"There were thousands of people trying to get out at once. They were all screaming and crying. The whole place smelt smokey and burnt."
"The explosion sounded like it was inside the building somewhere."
[revad2]