This is a developing situation. Please check back for updates.
Multiple deaths and injuries have been reported following at least one explosion that rocked an Ariana Grande concert on Monday night in Manchester, England.
The explosion was initially reported as a possible suicide bomb, according to multiple reports, and is being treated as an act of terrorism by the police. The Greater Manchester Police confirmed Monday night that the case is being treated as a terrorist incident "until we know otherwise," it posted to Twitter.
Greater Manchester Police issued a statement that there are now 22 people confirmed dead and 59 people injured, but no further details were immediately available. The Manchester Arena holds 21,000 people.
Grande took to Twitter late Monday night and said she was "so so sorry" about what transpired.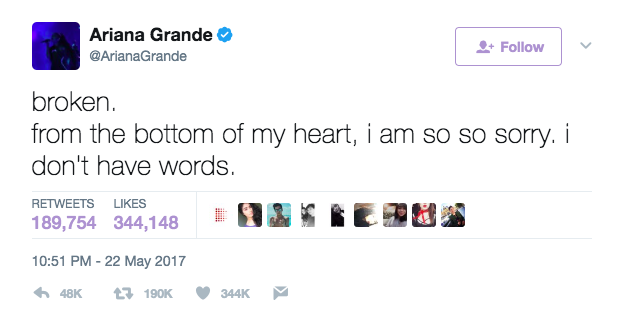 "Broken," she wrote. "[F]rom the bottom of my heart, [I] am so so sorry. [I] don't have words."
The BBC at one point reported that the North West Counter Terrorism Unit is treating the incident as possible terrorism, according to its sources.
There were two "loud bangs" that took place near what might have been the box office after Grande finished performing and had left the stage, according to multiple reports.
Manchester police also advised people to avoid the area around the Manchester Arena so first responders can do their job.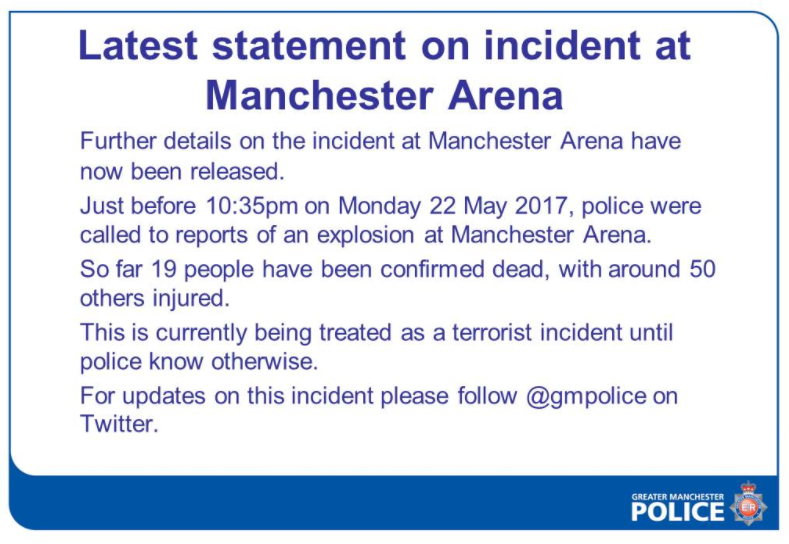 The Daily Mail was the first to report on the scene, and concert-goers told the Daily Mail:
"We could hear the police and ambulance sirens. It was terrifying."
"There were thousands of people trying to get out at once. They were all screaming and crying. The whole place smelt smokey and burnt."
"The explosion sounded like it was inside the building somewhere."
Reps for Ariana Grande said the singer was not harmed, according to ABC News.