President Donald Trump has fired FBI Director James Comey.
Tuesday, the White House has issued a press release stating that President Donald Trump has fired FBI Director James Comey. The release stated in part that, "President Donald J. Trump has informed FBI Director James Comey that he has been terminated and removed from office. President Trump acted based on clear recommendations of both Deputy Attorney General Rod Rosenstein and Attorney General Jeff Sessions."
President Trump is also quoted in the press release as saying that, "The FBI is one of our Nation's most cherished and respected institutions and today will mark a new beginning for our crown jewel of law enforcement."
Director Comey was leading an investigation into whether members of the Trump campaign colluded with Russia to influence the 2016 election. Some on the political right see the firing overdue for someone who was continually mired in unprofessional controversy while others claim Trump fired Comey to avoid an investigation. Nick Confessore, a New York Times reporter is one of many leftist reporters claiming the latter: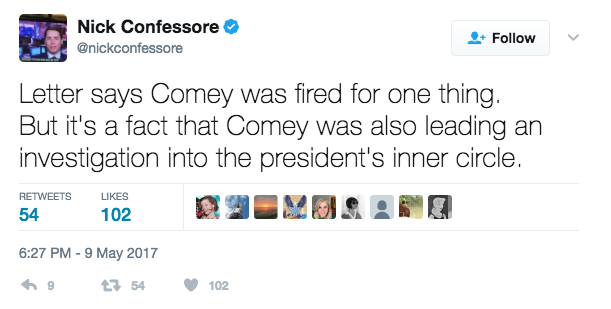 Trump stated in the release, "While I greatly appreciate you informing me, on three separate occasions, that I am not under investigation, I nevertheless concur with the judgment of the Department of Justice that you are not able to effectively lead the bureau."
Comey was appointed as Director of the FBI by former President Barack Obama in 2013. He received widespread criticism for his investigation into Hillary Clinton's use of private emails to conduct government business and his handling of issues leading up to the final 10 days of the 2016 Presidential election.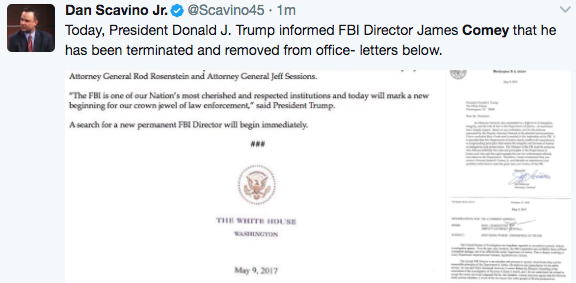 Both Bill and Hillary Clinton went as far as to blame him for Hillary Clinton's loss.
Among countless other things, Comey also once said that there is no such thing as absolute privacy in America.
[revad2]