On Thursday, acting FBI director Andrew McCabe testified before the Senate intelligence committee and stated that he does not intend to update the White House on the Russia investigation moving forward.
This is a breaking story, we will continue to provide updates. 
In an interview Thursday, President Donald Trump told NBC News that he "knows" he is not under investigation for collusion with Russia, and that former FBI Director James Comey told the President on three separate occasions that he was not under investigation, according to a report in the Associated Press.
The President on Tuesday fired Comey as the nation's top crime fighter, claiming the former FBI director had "lost the confidence" of the country.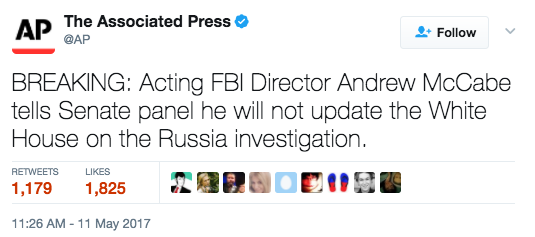 When asked by Senator Ron Wyden during the Senate hearing if McCabe would refrain from updating the President and the White House of the status of the investigation, the acting FBI director responded, "I will."
McCabe also contradicted the White House and the Trump administration by calling the Trump-Russia investigation "highly significant."
[revad2]