On Tuesday, President Donald Trump took to Twitter to speak out about the latest comments made by North Korea Monday night, and to reiterate that America would act alone against the North without the help of China if it had to.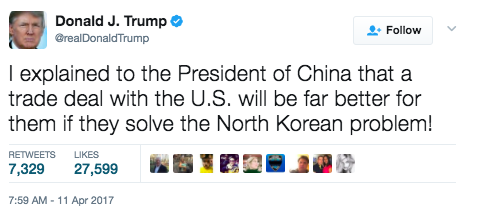 "I explained to the President of China that a trade deal with the U.s. will be far better for them if they solve the North Korean problem!" Trump tweeted. Minutes later, he tweeted a follow up statement.
"North Korea is looking for trouble," President Trump's second tweet said. "If China decides to help, that would be great. If not, we will solve the problem without them! U.S.A."
Late Monday night, North Korea issued a warning to the United States that any "reckless" acts of aggression against the Korean nation would be met with "catastrophic consequences." The threat came just after the U.S. announced it was repositioning the U.S. Navy strike group Carl Vinson to the Korean Peninsula in a show of force in response to the recent provocations by North Korea.
Earlier this month before meeting with Chinese President Xi Jinping, President Donald Trump issued a similar statement during an interview with the Financial Times. Trump acknowledged the great influence China has over the North and said that the United States is ready to act alone because "if China is not going to solve North Korea, we will."
"Yes, we will talk about North Korea," Trump said in the exclusive interview with Financial Times. "And China has great influence over North Korea. And China will either decide to help us with North Korea, or they won't. And if they do that will be very good for China, and if they don't it won't be good for anyone."
Trump added that if China was not going to do anything, the United States could have to act.
"Well, if China is not going to solve North Korea, we will. That is all I am telling you," the President continued.
Senator John McCain previously made comments during an interview on MSNBC acknowledging that China is the only country that can keep North Korea in control because of the great influence they have over them.
"China is the only one that can control Kim Jong Un, this crazy fat kid that's running North Korea," McCain said.
[revad2]