On Tuesday, North Korea's official Rodong Sinmun newspaper reported that the North was ready to respond against any aggression shown by the United States as the U.S. Navy Carl Vinson strike group approaches the Korean Peninsula. North Korea said that it has its "nuclear sight" focused on U.S. "invasionary bases."
"Our revolutionary strong army is keenly watching every move by enemy elements with our nuclear sight focused on the U.S. invasionary bases not only in South Korea and the Pacific operation theatre but also in the U.S. mainland," the Rodong Sinmun newspaper report said.
South Korean acting President Hwang Kyo-ahn warned of that the North may conduct a nuclear test and ordered the military to monitor the situation.
"It is possible the North may wage greater provocations such as a nuclear test timed with various anniversaries including the Supreme People's Assembly," said Hwang, as quoted by Reuters.
On Tuesday, President Donald Trump took to Twitter to speak out about the latest comments made by North Korea Monday night, and to reiterate that America would act alone against the North without the help of China if it had to.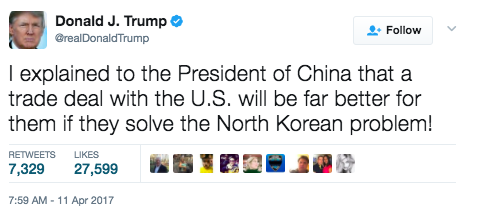 "I explained to the President of China that a trade deal with the U.s. will be far better for them if they solve the North Korean problem!" Trump tweeted. Minutes later, he tweeted a follow up statement.
Late Monday night, North Korea issued a warning to the United States that any "reckless" acts of aggression against the Korean nation would be met with "catastrophic consequences." The threat came just after the U.S. announced it was repositioning the U.S. Navy strike group Carl Vinson to the Korean Peninsula in a show of force in response to the recent provocations by North Korea.
Earlier this month before meeting with Chinese President Xi Jinping, President Donald Trump issued a similar statement during an interview with the Financial Times. Trump acknowledged the great influence China has over the North and said that the United States is ready to act alone because "if China is not going to solve North Korea, we will."
Visit NorthKoreaThreat.com for Breaking & Immediate Alerts on the DPRK Threat
[revad2]