Friday, North Korea launched a ballistic missile in defiance of stern international, U.S. and Chinese warnings. The missile test failed as the missile broke up in flight. Officials told Fox News that the missile, a KN-17 former Scud, was being tested to one day target ships and that it flew roughly 25 miles and flew for around 15 minutes. President Trump tweeted a reaction: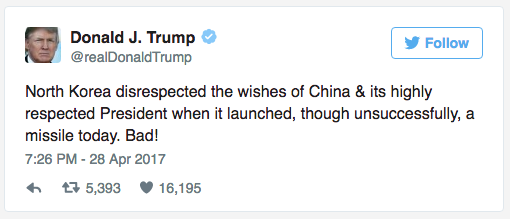 This comes on the heels of President Trump warning on Friday that "There is a chance that we could end up having a major, major conflict with North Korea. Absolutely."  Trump also acknowledged that Chinese President Xi Jinping is working to help control Kim Jong Un through diplomacy. China also ordered North Korea to stop its test launches or face more sanctions. Now the U.S. is considering more harsh sanctions.
On Thursday North Korea released a video with U.S. aircraft carriers exploding and showing the White House in crosshairs.
The rhetoric between the world and North Korea has only been heating up with North Korea even threatening a "super-mighty preemptive strike" against the U.S.
On Friday the U.S. Secretary of State Rex Tillerson told the United Nations to impose harsher sanctions on North Korea.
[revad2]