On Thursday, USA Today released an article about the latest spat between North Korea and Arizona Senator John McCain and incorrectly quoted North Korea by pulling a tweet from a parody North Korean government Twitter account. The newspaper quoted the parody account, @DPRK_News, as calling John McCain a "noted idiot" believing that the statement was coming from the North Korean government itself. According to the Daily Caller, this is not the first time USA Today has fallen for the fake account.
On Thursday USA Today reported:
The state-run North Korean News Service accused McCain of attacking that nation's dignity.

"Noted idiot John McCain denounced as an infantile lunatic angrily soiling himself after slandering august personages of DPRK," the service tweeted Thursday.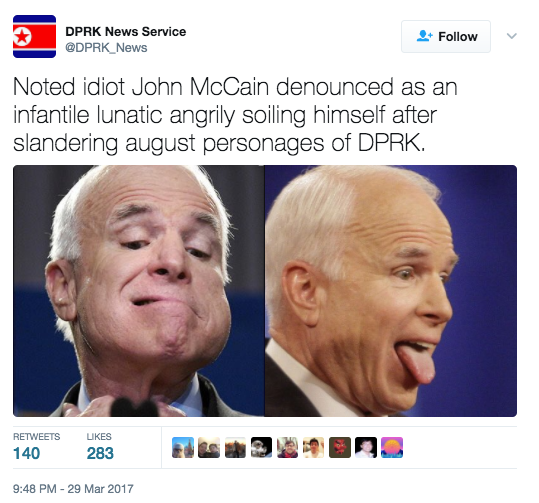 USA Today has since updated the report to fix the error:
Corrections & Clarifications: A previous version of this story included a tweet from a parody account. The quoted tweet has since been removed from the story.
The "DPRK News Service" account was created to mock the Democratic People's Republic of Korea (DPRK, North Korea's official name) in 2009. In 2014, Newsweek conducted an interview with the account's creators after they themselves were fooled by the parody account and quoted two of its tweets thinking they were authentic. Its creators, Patrick and Derrick, are bloggers for the libertarian law blog Popehat.com.
According to Newsweek, The Washington Post, Reuters, The Huffington Post, Verge, and Buzzfeed have all fallen victim to the unverified Twitter handle and quoted its statements in reports before realizing it was a farce.
According to the Daily Caller, this is not the first time that USA Today has fallen victim to the Popehat.com bloggers' parody account. In January, the Daily Caller reported that a December article by White House reporter David Jackson quoted the @DPRK_News account and stated:
"The Twitter feed of the nuclear-armed dictatorship said, 'Donald Trump minister of nuclear weapons Richard Perry known as governor of Texas province, famed for its production of tacos and bumpkins.'"
While North Korea may not have actually called John McCain a "noted idiot," they did offer some words for him about his latest statements calling their leader, Kim Jong-Un, a "crazy fat kid."
Following McCain's remarks on a March 22 interview with Greta Van Susteren on MSNBC, North Korea's state-run news agency, KCNA, reported that reported that the statements made by McCain, as well as recent actions taken by Texas Senator Ted Cruz to get North Korea designated as an official terrorist state, are expressions "of their worst hostility toward the DPRK's ideology, social system, and its people and a grave provocation little short of a declaration of war against it."
"The service personnel and people of the DPRK are regarding the dignity of their supreme leadership as their life and soul," KCNA added, threatening that the Democratic People's Republic of Korea (DPRK, North Korea's official name), "will take steps to counter."
In response to the North's outrage, John McCain asked in a tweet on Wednesday: "What, did they want me to call him a crazy skinny kid?"
[revad2]