On Wednesday, North Korea announced that they were not happy with Senator John McCain for hurting the nation's "dignity" by calling their leader a "crazy fat kid." After reports that the North was willing to go to war over the humorous statement, John McCain quipped back with a question that is also likely to enrage the North Koreans.
In response to a Daily Caller article titled "North Korea Flips Out After McCain Calls Kim Jong-Un A 'Crazy Fat Kid,'" the Arizona Senator tweeted: "What, did they want me to call him a crazy skinny kid?"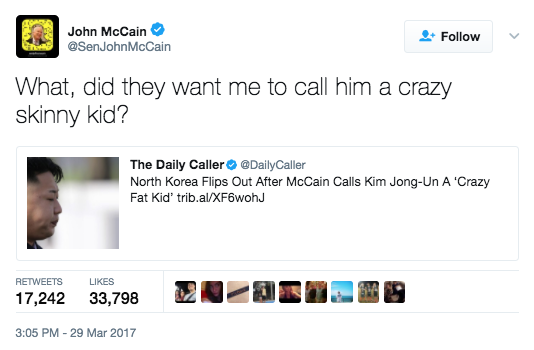 McCain, who also serves as the Chairman of the Senate Armed Services Committee, infuriated the North Koreans with his comments made during a March 22 interview with Greta Van Susteren on MSNBC. McCain told Van Susteren that China was the only one who could control the "crazy fat kid that's running North Korea."
McCain told MSNBC host Greta Van Susteren that China was the only one who could control the "crazy fat kid that's running North Korea."
"He's not rational, Greta," McCain continued. "We're not dealing even with someone like Joseph Stalin, who had a certain rationality to his barbarity."
His comments, along with some recent actions taken by Texas Republican Senator Ted Cruz that pushed to designate North Korea as a terrorist state, compelled the North Koreans to respond. The country's state-run news agency, Korean Central News Agency (KCNA), reported that the actions and statements taken by Cruz and McCain are expressions "of their worst hostility toward the DPRK's ideology, social system, and its people and a grave provocation little short of a declaration of war against it."
"The service personnel and people of the DPRK are regarding the dignity of their supreme leadership as their life and soul," KCNA added, threatening that the Democratic People's Republic of Korea (DPRK, North Korea's official name), "will take steps to counter."
KCNA also reported that the senators "will have to bitterly experience the disastrous consequences to be entailed by their reckless tongue-lashing and then any regret for it will come too late."
The North Koreans threatened to use its nuclear force because the senators, who they added were "like [puppies] knowing no fear of the tiger," dared to hurt their nation's "dignity."
'The revolutionary forces of the DPRK with its nuclear force for as its pivot will fulfill its sacred mission of devotedly defending its supreme leadership representing the destiny and life of its people by dealing a merciless sledge-hammer blow at those daring [to] hurt the dignity of the supreme leadership," said the report.
[revad2]