On Friday, transition team officials reported that President-elect Donald Trump has selected Republican Congressman from Kansas Mike Pompeo for the role of CIA Director. According to Reuters, Pompeo, a former Army officer, West Point graduate and Harvard Law graduate, has accepted the position. The official announcement is expected to happen Friday afternoon.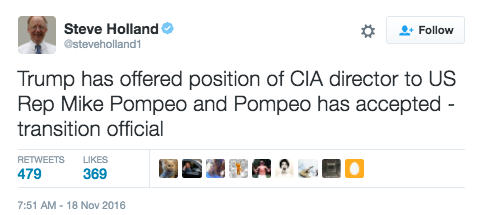 Rep. Pompeo has served three terms in the House and is a West Point and Harvard Law graduate.  The 52 year old U.S. Representative has been an outspoken critic of the Obama administration, specifically because of its dangerous foreign policy regarding Iran and the highly controversial Iran Deal. After joining the House in 2011, Rep. Pompeo became a prominent figure in Congress during the congressional investigation into the 2012 terrorist attack in Benghazi and was a harsh critic of then Secretary of State Hillary Clinton.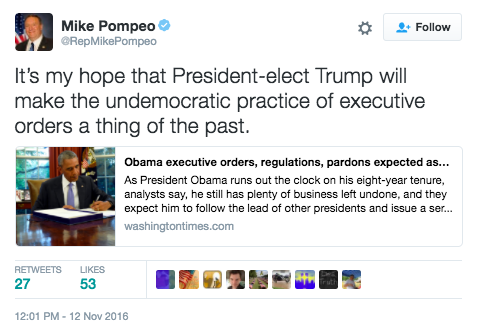 Rep. Pompeo was on the congressional task force that discovered that CENTCOM was altering reports on the ground in Iraq and Syria to "paint a rosier picture" to the public about the situation in the Middle East.
Congressman Pompeo has been under fire for his comments regarding muslims, specifically some on the House floor in 2013 in which Pompeo said that Muslim leaders that failed to denounce terrorism done in the name of Islam are "potentially complicit" in the attacks. The statement garnered attention from the Council on American-Islamic Relations who said that his remarks were "false and irresponsible."
In July 2015, Rep. Pompeo along with Sen. Tom Cotton alleged that the Obama Administration had made secret side deals between Iran and the IAEA during the making of the Iran Deal. Though the Obama Administration denied such a claim, such side deals were later exposed as Pompeo confirmed to American Military News over the summer.
[revad2]