On Sunday, House Majority Leader Kevin McCarthy called for an investigation into the Army National Guard demanding soldiers repay thousands in re-enlistment bonuses that were issued over the past decade as incentive during the war in Iraq and Afghanistan. Rep. McCarthy called the attempt to reclaim the money "disgraceful" and that those who received the money should not be held responsible.
"It is disgraceful that the men and women who answered their country's call to duty following September 11 are now facing forced repayments of bonuses offered to them," McCarthy said in a statement. "Our military heroes should not shoulder the burden of military recruiters' faults from over a decade ago."
"They should not owe for what was promised during a difficult time in our country. Rather, we are the ones who owe a debt for the great sacrifices our heroes have made – some of whom unfortunately paid the ultimate sacrifice," Rep. McCarthy continued. "The Department of Defense should waive these repayments and I will be requesting a full brief from Army and National Guard leadership. The House will investigate these reports to ensure our soldiers are fully honored for their service."
The National Guard claims that due to fraud and mismanagement, thousands of soldiers that were offered re-enlistment bonuses to join the fight in Iraq and Afghanistan were not eligible. The Guard is asking about 10,000 troops to repay bonuses of $15,000 or more that they claim were issued to hit enlistment quotas. The guard says about $22 million was wrongfully issued and are requesting that it all be paid back.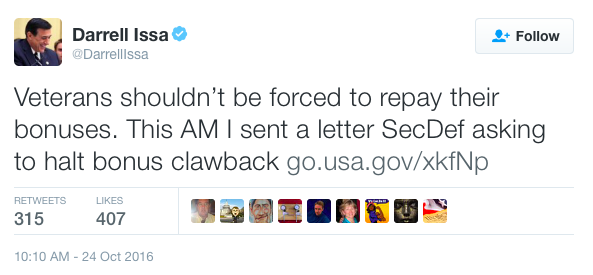 Republican Congressman Darrell Issa also voiced his disgust with the situation.
"It is unconscionable that the responsibility for paying for bureaucratic malfeasance and corruption over a decade ago is being laid at the feet of the heroes who put themselves in harm's way to keep our nation safe," he said in a statement. "The Department of Defense should forgive these debts immediately."
Republican Rep. Duncan Hunter called the decision "boneheaded."
Congressmen Hunter, Issa, and McCarthy all represent the State of California where the bulk of the mismanagement occurred.
California Guard official Col. Michael S. Piazzoni told the Tribune News Service that "the system paid everybody up front, and then we spent the next five years figuring out if they were eligible."
Those who are required to pay back the bonuses face harsh consequences if they fail to do so. Troops are subject to interest charges, wage garnishments, and tax liens if they refuse.
[revad2]