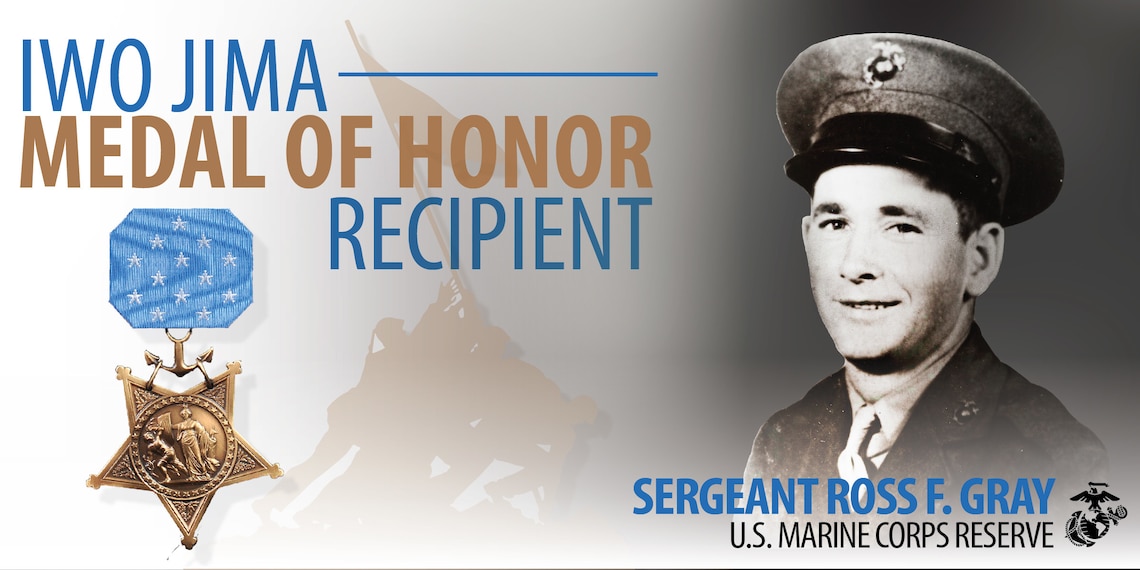 ARLINGTON, Va. —
The Battle of Iwo Jima is undoubtedly one of the most iconic and defining battles for the U.S. Marine Corps. The countless acts of selflessness and uncommon valor created a fighting spirit still embodied in today's Marines.
During the battle-long commemoration for the 75th anniversary of Iwo Jima, the Marine Corps is honoring Marines and Sailors – far too many to highlight during the commemoration – whose actions and dedication to the nation made an everlasting impact.
Sgt. Ross F. Gray is one to be recognized.
Born in Marvel Valley, Alabama, the former carpenter enlisted in the Marine Corps Reserve July 22, 1942, and was assigned to active duty the same day. After attending 4th Marine Division's Mine and Booby Trap School, he used his skills to disarm an entire minefield, Feb. 21, 1945, during the Battle of Iwo Jima. His actions that day earned him the Medal of Honor.
His citation reads,
"For conspicuous gallantry and intrepidity at the risk of his life above and beyond the call of duty as Acting Platoon Sergeant serving with Company A, First Battalion, Twenty-Fifth Marines, Fourth Marine Division, in action against enemy Japanese forces on Iwo Jima, Volcano Islands, February 21, 1945.
"Shrewdly gauging the tactical situation when his platoon was held up by a sudden barrage of hostile grenades while advancing toward the high ground northeast of Airfield Number One, Sergeant Gray promptly organized the withdrawal of his men from enemy grenade range, quickly moved forward alone to reconnoiter and discovered a heavily mined area extending along the front of a strong network of emplacements joined by covered communication trenches.
"Although assailed by furious gunfire, he cleared a path leading through the minefield to one of the fortifications then returned to the platoon position and, informing his leader of the serious situation, volunteered to initiate an attack while being covered by three fellow Marines. Alone and unarmed but carrying a twenty-four pound satchel charge, he crept up the Japanese emplacement, boldly hurled the short-fused explosive and sealed the entrance.
"Instantly taken under machine-gun fire from a second entrance to the same position, he unhesitatingly braved the increasingly vicious fusillades to crawl back for another charge, returned to his objective and blasted the second opening, thereby demolishing the position. Repeatedly covering the ground between the savagely defended enemy fortifications and his platoon area, he systematically approached, attacked and withdrew under blanketing fire to destroy a total of six Japanese positions, more than twenty-five of the enemy and a quantity of vital ordnance gear and ammunition.
"Stouthearted and indomitable, Sergeant Gray had single-handedly overcome a strong enemy garrison and had completely disarmed a large mine field before finally rejoining his unit and, by his great personal valor, daring tactics and tenacious perseverance in the face of extreme peril, had contributed materially to the fulfillment of his company's mission. His gallant conduct throughout enhanced and sustained the highest traditions of the United States Naval Service."
Despite remaining unharmed during his 12 trips back and forth among enemy mines while under heavy fire, Gray was killed six days later, on Feb. 27, 1945, at the age of 24, after an enemy shell inflicted fatal wounds on his legs.
For his actions on Feb. 21, 1945, Gray was posthumously awarded the Medal of Honor, which was presented to his father, on the football field of his former high school April 16, 1946.
Following the war, Gray's remains were returned to the United States from the 4th Marine Division Cemetery on Iwo Jima for a private burial in Woodstock, Alabama.
Marines are charged with carrying forward the memories of those who fought before them. The core values of honor, courage and commitment connect today's Marines to generations of warriors who committed themselves to the nation's defense. We are Iwo.