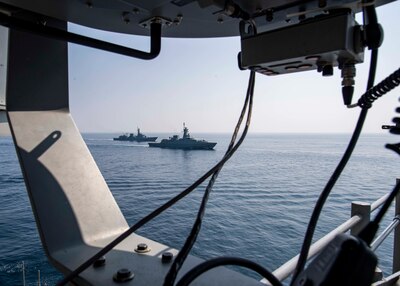 GULF OF OMAN, Nov. 7, 2019 — Guided-missile cruiser USS Normandy (CG60) conducted Maritime Security Operations (MSO) training with members of the Pakistani Navy during International Maritime Exercise (IMX) 2019.
IMX is a bi-annual maritime exercise designed to bring cooperative training across multiple warfare areas. Along with MSO, the participating countries will conduct partnership exercises in air defense, undersea warfare, surface warfare and operating as a joint task force.
USS Normandy and the Pakistani forces were joined by a specialized U.S. Coast Guard boarding team to assist in the training. Members of both units worked through the procedures of clearing USS Normandy as if it were a suspect vessel.
Lt. Michael Sefcik, USS Normandy's boarding officer, said, "We recently conducted this mission set here, in the Gulf of Oman. Being able to take lessons learned from that, as well as new lessons from this exercise will benefit not only our team but the teams of our partner nations." Sefcik went on to say that no matter the operation, it is crucial to build relationships, learn from each other and become a more lethal force.
Throughout IMX, USS Normandy and her crew will train and operate with multiple countries, including the United Kingdom, France, Oman and Pakistan.
"Exercises like this are pivotal to developing strong partnerships with regional nations, said USS Normandy Commanding Officer Capt. Christopher D. Stone. "Through exercises such as IMX, we enhance the ability to ensure the free flow of commerce throughout the region."
During the training event, the teams took a pause to enjoy lunch with the crew of USS Normandy, allowing for additional inter-nation relationships to be formed. USS Normandy is excited to continue its participation in IMX 2019, being the vanguard of maritime operations in USS Normandy fashion.
USS Normandy, homeported in Norfolk, Virginia, is deployed to the U.S. 5th Fleet area of responsibility as part of a scheduled deployment.