This report originally publishes at marines.mil.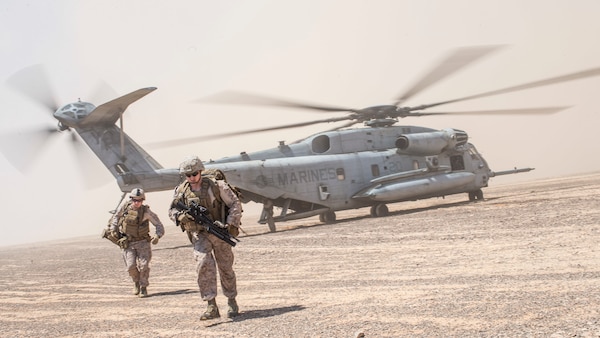 U.S. Marines with Kilo Company, Battalion Landing Team 3/5, 11th Marine Expeditionary Unit, depart a CH-53E Super Stallion attached to Marine Medium Tiltrotor Squadron 163, 11th MEU, during an aerial raid exercise in Wadi Shadiya, Jordan. Eager Lion, U.S. Central Command's largest and most complex exercise, is an opportunity to integrate forces in a multilateral environment, operate in realistic terrain and strengthen military-to-military relationships.
U.S. Marine Corps (USMC) reports are created independently of American Military News (AMN) and are distributed by AMN in accordance with applicable guidelines and copyright guidance. Use of USMC and U.S. Department of Defense (DOD) reports do not imply endorsement of AMN. AMN is a privately owned media company and has no affiliation with USMC and the DOD.