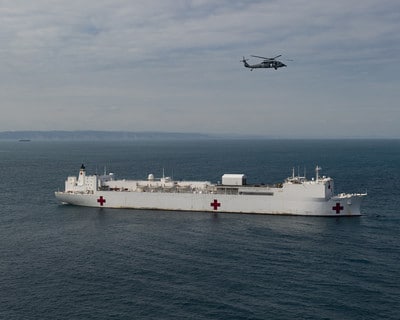 Oct. 30, 2018 —
ESMARALDAS, Ecuador – Senior leadership and personnel embarked aboard the hospital ship USNS Comfort (T-AH 20) attended a closing ceremony at a medical site, in Esmeraldas, Ecuador, following five days of treating patients, Oct. 26.
Ambassador Liliana Ayalde, civilian deputy to the commander, foreign policy advisor, U.S. Southern Command, Ecuadorian Army Brig. Gen. Franklin Gustavo Acosta, commander, Joint Task Force Esmeraldas, and Ecuadorian Adm. Lenin Sanchez, the inspector general of the Ecuadorian navy, were among the speakers at the ceremony.
"God bless the USNS Comfort and all the Sailors on board," said Sanchez. "You, Sailors of the world, are practicing what we believe and what we do. The sea is not a huge mass of water separating us; it is a bridge of friendship and brotherhood. God bless your vessel. She is the one carrying on board hope, health and joy."
Over the last five days, Comfort has treated more than 4,000 patients, including nearly 2,500 medical patients, 1,100 optometry patients, 450 dental patients, and performed 81 surgeries.
"This type of medical mission is something that I always wanted to do," said Hospital Corpsman 2nd Class Whitney Corbin. "It's great to be able to give back to people who don't have access to the same kind of care that we do."
"The people of Ecuador helped to make this a truly remarkable and rewarding experience for the Comfort team," said Capt. William Shafley, commander, Task Force 49. "We have worked diligently this last week with our partners, the government of Ecuador, to provide quality healthcare to as many people as possible."
Comfort is on an 11-week medical support mission to Central and South America as part of U.S. Southern Command's Enduring Promise initiative. Working with health and government partners in Ecuador, Peru, Colombia and Honduras, the embarked medical team will provide care on board and at land-based medical sites, helping to relieve pressure on national medical systems caused partly by an increase in cross-border migrants. The deployment reflects the United States' enduring promise of friendship, partnership and solidarity with the Americas.
For more information, visit www.facebook.com/NAVSOUS4THFLT,www.dvidshub.net/feature/comfort2018, and www.navy.mil.