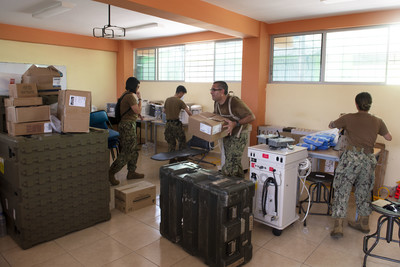 Oct. 22, 2018 — ESMERALDAS, Ecuador – A team comprised of more than 900 personnel, embarked aboard USNS Comfort (T-AH 20), commenced their first mission stop as part of U.S. Southern Command's Enduring Promise initiative in Esmeraldas, Ecuador, Oct. 20.
"The Comfort team has put in a ton of effort to get this medical mission from sea to shore," said Capt. William Shafley, commander, Task Force 49. "We have partnered with the government of Ecuador to ensure smooth and safe mission execution over the coming week."
Medical personnel engaged with patients, Saturday, as they moved through the medical screening process to receive care at the established medical sites. Throughout the week, military and non-governmental organization volunteers will work alongside partner nation medical personnel to provide no-cost medical and dental services to local communities.
"In the upcoming days, we are looking to see 500 to 750 patients a day, though we really hope to see up to 1,000 to help as many people as we can," said Lt. Cmdr. Derek Austin, officer-in-charge of one of two medical sites. "Today, we are working on setting up our medical site for patient care. After setup, we are going to screen patients for surgery on the ship."
Located at Autoridad Portuaria and Universidad Técnica Luis Vargas Torres de la Esmeraldas, the two medical sites will be fully operational, Monday morning. Once active, the teams will provide medical and dental services including preventative treatments, optometry, dermatology, women's health, adult medicine, pediatrics, dental and surgical screening.
"I'm originally from Kansas, and I never really thought I would get to go anywhere outside of the country," said Hospitalman Lynsey Harris. "I'm super excited to be here and help the Ecuadorian people and to show that we are always willing to help."
This is the sixth time that Comfort has deployed to the region. Past missions have provided medical treatment to more than 390,000 patients, including 6,000 surgeries.
"Even the name of this mission, Enduring Promise, says that not only do we want to be here, we want to come back," said Austin. "We are going to try and do a fantastic job and set the tone that we will do this, we'll do it again, and that we are friends and allies."
Comfort is on an 11-week medical support mission to Central and South America as part of U.S. Southern Command's Enduring Promise initiative. Working with health and government partners in Ecuador, Peru, Colombia and Honduras, the embarked medical team will provide care on board and at land-based medical sites, helping to relieve pressure on national medical systems caused partly by an increase in cross-border migrants. The deployment reflects the United States' enduring promise of friendship, partnership and solidarity with the Americas.
For more information, visit www.facebook.com/NAVSOUS4THFLT, www.dvidshub.net/feature/comfort2018, and www.navy.mil.