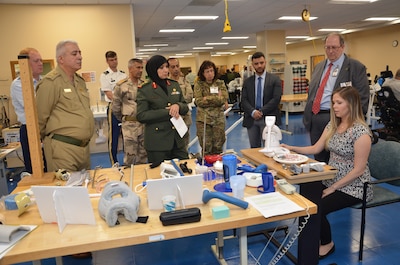 Tampa, Fla., April 8, 2019 —
"Injury Prevention to Rehabilitation, Enhancing Military Medical Capabilities" was the theme during USCENTCOM's biennial Medical Security Cooperation Exchange, April 2 – 5.
Senior medical officials from eighteen coalition and partner nations representing the Middle East and Central Asian regions, as well as Europe, attended the event to exchange information to enhance medical capabilities in support of missions including disaster response, humanitarian assistance, and combat and peacekeeping operations.
This year's exchange consisted of panel discussions and a tour of the James A. Haley Veteran's Hospital Polytrauma Rehabilitation Center – one of five in the U. S. where rehabilitative medicine's best practices and research inform clinical standards.
Panel discussions included leading experts in the fields of rehabilitative medicine, casualty management, patient movement, medical logistics, bio-surveillance, veterinary services, and behavioral health.
During opening remarks, U.S. Air Force Col. Jeffrey Calder, USCENTCOM's command surgeon, highlighted the long-standing medical security cooperation relationship USCENTCOM shares with partners in their area of responsibility.
A few of the medical engagements he cited included supporting the Iraqi military with rehabilitative medicine, the United Arab Emirates Armed Forces with trauma care, and the Kazakhstan Ministry of Defense with developing a Military Medical Excellence Center.
Calder challenged the group "to think about how we can take our successes from bi-lateral engagements and look to scale them up through multilateral approaches."
During the hospital tour the attendees viewed first-hand the extensive services designed to support the polytrauma patient. There, two bilateral amputees, one who continues to serve on active duty and one who is pursuing a successful business venture, shared their personal rehabilitative stories attributing their success to the many years of support and care they received from Tampa's U.S. Department of Veterans Affairs (VA).
"Our goal is to help our patients not just survive, but thrive," said Mr. Joe D. Battle, director of the James A. Haley VA Medical Center. "We want to help them live their best lives, and as long as they're improving, we will treat them – often for decades. Our relationships with patients are lifelong."
The event's final discussion explored the future of medical security cooperation. Panel experts reinforced the need for persistent engagement by leveraging military medical capability in support of military and civilian medical counterparts.
"Taking this approach will assist in building partnerships, enhancing capacity, improving interoperability and enhancing the medical readiness of the professionals involved. This is a wise investment that supports the global good," said U.S. Army Col. Derek Licina, USCENTCOM's chief of medical security cooperation, who facilitated the event.