Release No: 18-021 Dec. 14, 2018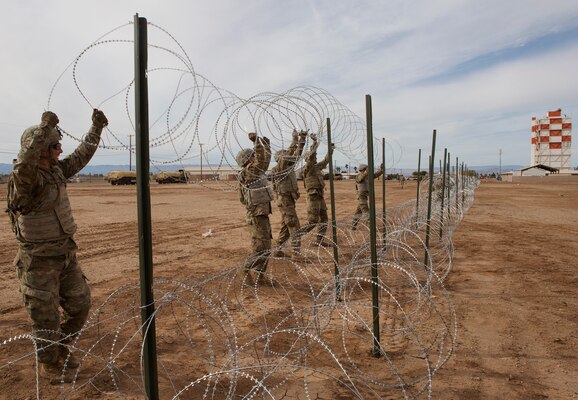 1 of 1
DOWNLOAD HI-RES / PHOTO DETAILS
U.S Soldiers with 541st Engineer Company, Special Purpose Marine Air-Ground Task Force 7, position concertina wire on a practice barricade at Naval Air Facility El Centro in California, Dec. 4, 2018. U.S. Northern Command is providing military support to the Department of Homeland Security and U.S. Customs and Border Protection to secure the Southern border of the United States. (U.S. Marine Corps photo by Sgt. Asia J. Sorenson)
PETERSON AIR FORCE BASE, Colo. —
The Department of Defense continues to provide engineering and military police force protection support at ports of entry designated by DHS/CBP in California and Arizona. The DoD continues to provide aviation support to transport CBP personnel in and around CBP-designated locations in California and Arizona. DoD will maintain capability to provide emergency medical support to CBP personnel and migrants, as required.
With the completion of border hardening missions, some engineering, logistics and headquarters elements will redeploy to their home bases to prepare for other missions. The first large redeployment of approximately 750 service members from Texas and Arizona occurred yesterday. In addition, about 220 replacement troops arrived in Arizona yesterday. The DoD units remaining on the border, as well as those on alert, are able to meet CBP requirements approved in the signed DHS-DoD support agreements.
The DoD has provided support to DHS/CBP's border security mission across South Texas, California, and Arizona since Oct. 31, 2018. At the height of the mission, nearly 5,900 service members from the Army, Marine Corps, Air Force and Navy were deployed. Currently, we have approximately 4,200 personnel supporting CBP along the southwest border with approximately 1,700 in the Texas corridor, 1,000 in the Arizona corridor, and 1,500 in the California corridor. DoD will continue to mature composition of our force to meet CBP requirements. There are also more than 2,100 National Guard service members currently supporting CBP under Operation Guardian Support.
Over the past several weeks, military engineers emplaced approximately 70 miles of wire obstacles and placed moveable barriers at 22 Ports of Entry across California, Arizona and Texas. Engineers used more than 480 miles of single strand concertina wire to create the 70 miles of obstacles. Military Police units conducted more than 10,000 man-hours of unit training and combined rehearsals with their CBP counterparts at ports of entry in California, Arizona and Texas. Military rotary wing aviators flew more than 740 hours in support of CBP in California, Arizona and Texas.
NORAD and USNORTHCOM PUBLIC AFFAIRS