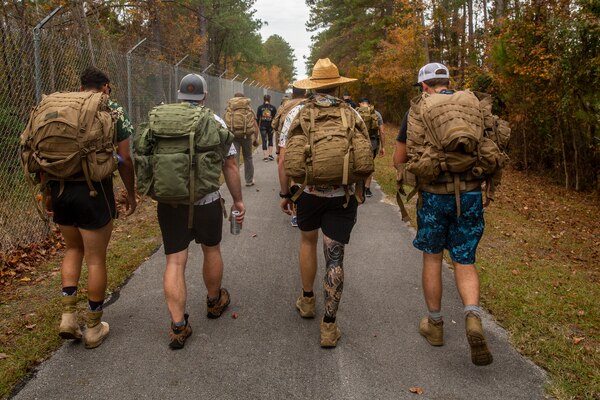 MARINE CORPS BASE CAMP LEJEUNE, N.C. —
The day before Thanksgiving is a time many people spend with family and friends. This year, Marines and Sailors of 2nd Reconnaissance Battalion, 2nd Marine Division decided to spend their time giving back to the local community.
Approximately 200 Marines and Sailors with 2nd Recon and their families participated in a charity ruck march Nov. 27, 2019. The Battalion loaded up their packs with non-perishable food donations and hiked approximately six miles from the Marine Corps Base Camp Lejeune Main Gate to the United Way CHEW! House in Jacksonville, North Carolina.
"Without the support of the community we wouldn't be able to support this program. In Jacksonville, Marines are the biggest part of our community and for them to be able to give back to the community is huge." Shelly Kiewge, the community impact director for United Way
"We have a lot to be thankful for," said Sgt. Maj. Joseph Mendez, the 2nd Recon Sergeant Major. "As Marines, we are guaranteed the basic things like housing and food. It's important that we realize that not everyone in our local community has that opportunity."
The event was organized by 2nd Recon to build unit camaraderie through physical training, and donate much needed food items to the Onslow County United Way's Children Healthy Eating on Weekends program.
"It's always important to help out the local community," said Staff Sgt. Joseph DeBlaay the staff non-commissioned officer in charge of 2nd Recon training command. "For us, it lets the community know we're here and easy to approach when needed."
The CHEW! Program was created to provide bags packed with healthy food for children in need over the weekend who wouldn't be fed otherwise. The program helps over 700 school-aged children.
191127-M-RQ876-1157
Photo by Lance Cpl. Tyler Solak
The Marines donated over 3,800 pounds of food to the CHEW! program.
"I want my Marines to understand the importance of this. Not that it's just a battalion mandated event," said Staff Sgt. DeBlaay. "I want them to see the importance of why we're doing this to help out the community and help out those in need."
This is the second year the battalion has organized this event and plans to continue the tradition in years to come.
"When you join the Marine Corps you do it as a means to help people who traditionally can't help themselves," said Lt. Col. Geoff Hoey, battalion commander of 2nd Recon. "Whether it's people in a different country or helping people here at home who don't have enough money to put food on the table. It's inherent to what Marines do — we help people in need."