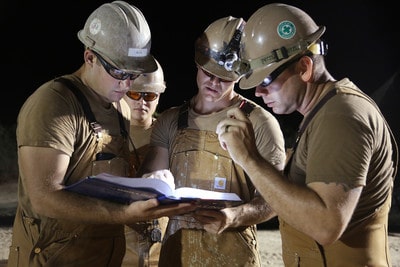 Oct. 11, 2018 —
RIOHACHA, Colombia (NNS) — Sailors assigned to Naval Mobile Construction Battalion (NMCB) 133 completed water-well drilling exploration operations Oct. 3 in the rural community of Riohacha, Colombia as part of Southern Partnership Station (SPS) 2018.
The operations resulted in a supply of readily available water in the region and was celebrated with an official hand over ceremony held at the well site.
NMCB-133 completed the project in close coordination with members of the Wayuu population who are indigenous to Riohacha, located in the country's La Guajira Department, in an effort to bring a greater supply of water to the community.
Capt. Brian Diebold, commodore of Destroyer Squadron 40, highlighted the importance of cooperation and collaboration SPS had with various local entitities, noting that the well could not have been completed without a multitude of organizations contributing.
"Without the Colombian army providing security to the site daily, the United States Navy would not have been successful in constructing a well," said Diebold. "Without the Riohacha Metropolitan Police force providing security escorts, we could not have constructed the well."
We would not have been successful without collaboration between the Colombian Government and the United States Embassy, added Diebold.
According to Brunilda Morales, a linguist and instructor of languages for Wayuu, from La Guajira's Office of Indigenous Affairs, a readily available source of water is a much needed commodity in this drought-stricken part of the country.
"This community has been in a state of drought for the last 8 to 10 years, but in the last 2 or 3 years, it has been much worse," said Morales. She added, "This prolonged dry season is affecting our well-being. Water is everything to us. Plants, animals and people continue to live through water."
The project took nearly a month to complete, and was the result of months of planning, coordination, and logistics movements. The SPS mission is normally supported by the expeditionary fast transport ship USNS Spearhead (T-EPF 1), but this engagement saw NMCB-133 Sailors arrive to Colombia aboard the Whidbey Island-class amphibious dock landing ship USS Gunston Hall (LSD 44). After arrival in country, the team completed a 6-hour [trip] over the road transit.
For Sailors assigned to NMCB-133, participating in the project served as an opportunity to help those in need get access to vital resources.
"It was awesome to participate in this project," said Utilitiesman 2nd Class Patrick Cannon. "I joined the Navy to do humanitarian missions, and I wanted to be a Seabee. This is the first time I have been able to really go out there and assist a community in need."
"The water aspect of it is cool because I don't think a lot of people realize that how much of an impact it has. Water gives everyone life, and life can't can't go on without water", added Cannon.
Held on an annual basis by U.S. Southern Command and executed by U.S. Naval Forces Southern Command/U.S. 4th Fleet, Southern Partnership Station is a U.S. Navy deployment focused on SMEEs with partner nation militaries and security forces in the Caribbean, Central and South America. SPS-18 operates under the leadership of Capt. Brian J. Diebold, commodore of Destroyer Squadron (DESRON) 40.
Focused on enhancing cooperative partnerships with regional maritime services, SPS aims to improve operational readiness for all participants. Additionally, the mission will provide an opportunity for U.S. and partner nations to operate in a multinational environment, refine coordination, improve interoperability, and demonstrate flexibility.
SPS is a demonstration of the strong U.S. commitment to partners in the Caribbean, Central and South America, fostering goodwill and enhancing our collective ability to respond to natural disasters and humanitarian crises. SPS 18 will conclude in October 2018.
For more news about Southern Partnership Station 2018, visit
https://www.dvidshub.net/feature/SouthernPartnershipStation2018, on Facebook at https://www.facebook.com/SouthernPartnershipStation/, on Twitter at https://twitter.com/NavySPS/, or on Instagram at https://www.instagram.com/southernpartnershipstation/.
Get more information about the Navy from US Navy facebook or twitter.
For more news from Navy Public Affairs Support Element, visit www.navy.mil/local/npasehq/.