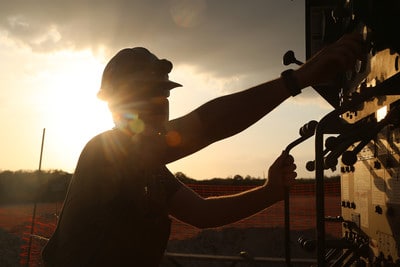 Sept. 7, 2018 —
RIOHACHA, Colombia (NNS) — Amidst a nearly decade-long drought, a team of U.S. Navy construction professionals assigned to Naval Mobile Construction Battalion (NMCB) 133 began water well drilling exploration operations in the rural community of Riohacha, Colombia Aug. 30 as part of Southern Partnership Station (SPS) 2018.
NMCB-133 will work side-by-side with members of the Wayuu population who are indigenous to the Colombian town of Riohacha, located in the country's La Guajira Department, in an effort to bring a greater supply of fresh water to the community.
"This community has been in a state of drought for the last 8 to 10 years, but in the last 2 or 3 years, it has been much worse," said Brunilda Morales, a linguist and instructor of languages for Wayuu, from La Guajira's Office of Indigenous Affairs. "This prolonged dry season is effecting our well-being. Water is everything to us. Plants, animals and people continue to live through water."
Though the probability of finding fresh, usable water in the selected drilling site is high, the activity is labeled a water well drilling exploration because there is never a guarantee that water will be found. To increase the chances of finding water, SPS and NMCB-133 has brought in an on-site geologist who is conducting scientific studies of the drilling area.
"The drillers are technical experts in their field," said Dr. Kimo Zaiger from Naval Facilities Engineering and Expeditionary Warfare Center, who is currently working at the drill site with Seabees from NMCB-133. "Geologists work with the drillers to bring a scientific level of expertise to their craft. Geologists are more knowledgeable in how the earth is structured, and can help interpret changes in the stratigraphy and rock mechanics."
Having a geologist on site helps to improve chances of success. Geology in combination with the drillers can try to come up with the best design solution, added Zaiger.
The water well drilling and exploration operations in Riohacha provide a benefit to people of the La Guajira Department, and also to the Sailors conducting the drilling.
"Efforts like this one allows us to grow our relationship with partner nations," said Lt. Cmdr. George Roth, team lead for the SPS Ground Command Element. "These efforts also give our Sailors the opportunity to practice their skills in a real-world scenario vice in a training environment. If successful, we will have assisted in providing water for a region and its people."
Held on an annual basis by U.S. Southern Command and executed by U.S. Naval Forces Southern Command/U.S. 4th Fleet, Southern Partnership Station is a U.S. Navy deployment focused on SMEEs with partner nation militaries and security forces in the Caribbean, Central and South America.
The SPS mission is normally supported by the expeditionary fast transport ship USNS Spearhead (T-EPF 1), but this engagement will notice teams have arrived in Colombia aboard the Whidbey Island-class amphibious dock landing ship USS Gunston Hall (LSD 44). Southern Partnership Station, Southern Seas, and UNITAS operate under the leadership of Capt. Brian J. Diebold, commodore of Destroyer Squadron (DESRON) 40.
Focused on enhancing cooperative partnerships with regional maritime services, SPS aims to improve operational readiness for all participants. Additionally, the mission will provide an opportunity for U.S. and partner nations to operate in a multinational environment, refine coordination, improve interoperability, and demonstrate flexibility.
SPS is a demonstration of the strong U.S. commitment to partners in the Caribbean, Central and South America, fostering goodwill and enhancing our collective ability to respond to natural disasters and humanitarian crises. SPS 18 will conclude in October 2018.
For more news about Southern Partnership Station 2018, visit
https://www.dvidshub.net/feature/SouthernPartnershipStation2018, on Facebook at https://www.facebook.com/SouthernPartnershipStation/, on Twitter at https://twitter.com/NavySPS/, or on Instagram at https://www.instagram.com/southernpartnershipstation/.
Get more information about the Navy from US Navy Facebook or Twitter.
For more news from Navy Public Affairs Support Element, visit www.navy.mil/local/npasehq/.