This report originally published at southcom.mil.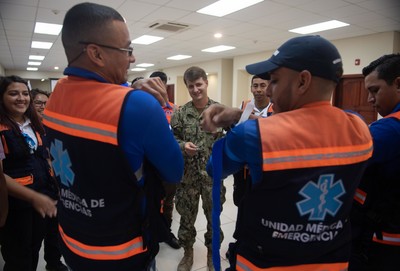 Sept. 20, 2018 —
TEGUCIGALPA, Honduras – U.S. Navy medical professionals assigned to Southern Partnership Station's (SPS) Fleet Health Engagement Team (FHET) arrived in Honduras Sept. 14 to begin subject matter expert exchanges (SMEE) and partner capacity building engagements with Honduran medical and emergency management professionals in Tegucigalpa as part of SPS 2018.
SPS' FHET will conduct SMEEs with Honduran representatives focused on specific topics such as tactical combat casualty care (TCCC), preventative medicine, humanitarian assistance and disaster relief (HADR) response procedures, and insect-borne disease prevention.
"We have a set of experiences from Iraq and Afghanistan and our partner nations have a lot of their own experiences," said Lt. Cmdr. Rachel Carter, an emergency and family medicine physician assigned to the FHET. "By sharing and discussing the evidence from these experiences, we come up with the best practices to prevent unnecessary loss of life in trauma and disaster situations."
Following productive visits to Colombia, and Trinidad and Tobago, this stop marks the third FHET engagement during SPS. The FHET is scheduled to conduct their final mission stop of SPS in El Salvador to work alongside the nation's military forces, security forces, and civilian health professionals. Engagements like these hone participants' skills in a variety of knowledge and skills, including HADR.
"When there are disasters and you need to rely on partner nations, you want to know their capabilities and capacity to respond," said Lt. Cmdr. Stefanie Nochisaki, a public health nurse assigned to SPS' FHET. "This helps us to better understand each other and how each other operates and functions in these situations."
Southern Partnership Station's FHET medical exchanges will continue to lay the groundwork for future endeavors.
"I feel the medical exchanges during Southern Partnership Station 2018 will lay a good framework and excellent foundation for future partnerships," said Hospital Corpsman 1st Class Osei Bonsu, an independent duty corpsman assigned to the FHET. "Practicing together as a team improves our relationships as 'teammates' for future missions."
Held on an annual basis by U.S. Southern Command and executed by U.S. Naval Forces Southern Command/U.S. 4th Fleet, Southern Partnership Station is a U.S. Navy deployment focused on SMEEs with partner nation militaries and security forces in the Caribbean, Central and South America.
Focused on enhancing cooperative partnerships with regional maritime services, SPS aims to improve operational readiness for all participants. Additionally, the mission will provide an opportunity for U.S. and partner nations to operate in a multinational environment, refine coordination, improve interoperability, and demonstrate flexibility.
SPS is a demonstration of the strong U.S. commitment to partners in the Caribbean, Central and South America, fostering goodwill and enhancing our collective ability to respond to natural disasters and humanitarian crises. SPS will conclude in October 2018.
For more news about Southern Partnership Station 2018, visit https://www.dvidshub.net/feature/SouthernPartnershipStation2018, on Facebook at https://www.facebook.com/SouthernPartnershipStation/, on Twitter at https://twitter.com/NavySPS/, or on Instagram at https://www.instagram.com/southernpartnershipstation/
U.S. Southern Command (SOUTHCOM) reports are created independently of American Military News (AMN) and are distributed by AMN in accordance with applicable guidelines and copyright guidance. Use of SOUTHCOM and U.S. Department of Defense (DOD) reports do not imply endorsement of AMN. AMN is a privately owned media company and has no affiliation with SOUTHCOM and the DOD.