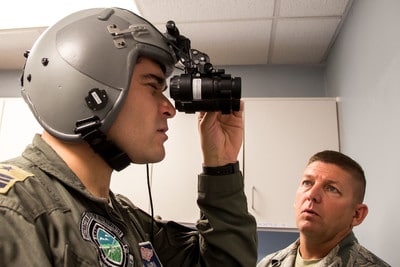 Oct. 29, 2018 —
FORT WORTH, Texas – As part of a State Partnership Program (SPP), the 136th Airlift Wing of the Texas Air National Guard hosted Chilean air force members July 24-28, at Naval Air Station Fort Worth Joint Reserve Base, Texas.
Chilean and Texas Air National Guard maintenance and operations Airmen worked side by side on various crew chief tasks, C-130 upkeep as well as sharing insight through Night Vision Goggle (NVG) training.
The SPP was designed in 1993 to forge mutually beneficial collaborations with some of the United States" staunchest allies and partners worldwide and has since built lasting personal and institutional relationships through these repeated engagements.
"This exchange was a little different," said Senior Master Sgt. Tommy Safford, 136th Aircraft Maintenance Squadron aircraft mechanic supervisor. "We had an entire day set aside for the Chilean exchange personnel to work side-by-side with their U.S. counterparts."
Safford went on to describe that operations and maintenance members from both nations discussed differences between each country"s processes that resulted in innovative recommendations benefitting both units. "We also discussed whether the Chilean Air Force should create an entirely new career field for crew chiefs," said Safford.
"The information will help Chilean senior leadership to make a decision on whether to divide crew chief responsibilities between maintenance and operations specialties or to create a new career field," said Lt. Col. Lorelei Gomez, 136th Aircraft Maintenance Squadron commander.
The Chileans will also take information back to their unit on how to incorporate night-vision capabilities in their Antarctic mission, as night operations in that area offer better weather in which to launch and recover aircraft.
"The Chilean Air Force has had NVGs in their inventory for more than two years and their maintenance (personnel) have worked with NVGs," said Gomez. "But this was the first time they had the opportunity to perform a launch and recovery of a C-130 aircraft with NVGs alongside U.S. Airmen."
Master Sgt. Seth Coulombe, 136th Operations Support Squadron airfield flight equipment flight chief, explained some of the areas in which his shop was able to assist the Chileans with their Night Vision program.
"Aircrew flight equipment Airmen were instrumental in helping the Chileans take their NVG program to the next level, from helping establish shop and operating stock to repairing and maintaining all NVG equipment," said Coulombe. "They also helped them identify areas where they were missing essential personnel and pieces of equipment. They made recommendations on how to improve the tracking of life support items and inspections required on the C-130 aircraft."
Gomez said this was the first flight with NVGs for Chilean Air Force Maj. F. Marin, a C-130 pilot with the N10 Squadron.
"Maj. Marin said this was the best flight he has had in his career," said Gomez. "The use of the NVGs completely changed their perspective and enabled them to understand some of the problems they are debriefed. We have provided them with a very real hands-on experience they can draw from in the future."