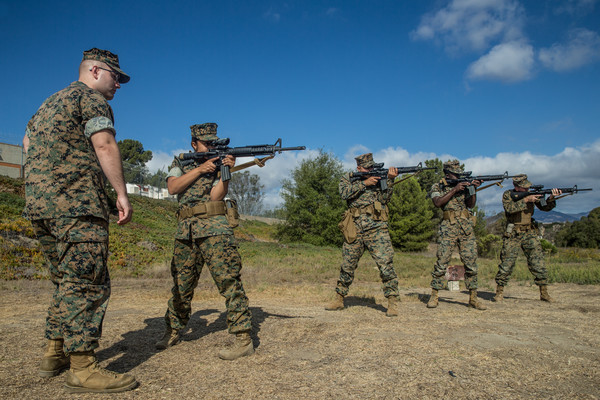 CAMP PENDLETON, Calif. —
Now is not the time to be nervous. What if I don't qualify? I'll never see corporal. Okay, okay, okay… remember what you were taught. 300-yard line equals the tip of the post, or is it tip of the chevron? What if none of my shots hit the…
"Shooters you may commence firing when your TAAARRGETS appear."
These thoughts can be all too familiar for some Marines during their annual rifle requalification. Marines can experience a lot of pressure when qualifying on the range, because every Marine's primary job is to be a rifleman, regardless of their occupational field. As such, it is important that every Marine has the confidence to fire under the most adverse of conditions. If a Marine is not confident in their shooting abilities, then qualifying can be difficult without proper instruction from a subject matter expert.
U.S. Marine Corps Cpl. Austin Meise, small arms repairer/technician, Headquarters and Support Battalion (H&S Bn), Marine Corps Base Camp Pendleton, mentioned that his first time shooting was when he was in recruit training. He asked a lot of questions and used a rifle data book that was given to all of the recruits by their primary marksmanship instructors.
MCB Camp Pendleton's Marksmanship Training Unit is dedicated to furthering the building blocks learned in recruit training, and further the training continuum approach to maintain proficient combat marksmen. During grass week, Marines practice without live firing, the four marksmanship shooting positions: sitting, kneeling, standing and prone.
"If you properly apply the fundamentals, you will shoot black all the time," said Meise, in regard to targets commonly fired upon at ranges. "Before the Marine Corps, I never shot a weapon, but with the guidance I received from the instructors, I now consistently fire expert on the range."
U.S. Marine Corps Sgt. Garald John, combat marksmanship trainer, H&S Bn, MCB Camp Pendleton, explains that the worst thing for CMTs, PMIs and combat marksmanship coaches is having one of their Marine's fail on the range for annual training.
"One of the most commonly asked questions is, 'how do I get a more stability in the standing position?'" said John. "The guidance I give them is: to rest their forward tricep on their chest as much as possible to get more stability, but mainly I express to just take their time to apply the fundamentals."
With the CMT by their sides, Marines also practice the maneuvers needed to accomplish a proper ammunition speed reload as well as opportunities to use the computer based, indoor simulated marksmanship trainers to run-through drills they will perform during their firing week.
"For the Marines that come to our MTU, I would say one-on-one coaching time is what helps most," explained John. "The first time we run everyone through the ISMT, and we assess that they are struggling, we'll ask if they'd like to stay back for extra practice giving that Marine the chance for further one-on-one training. We give them recommendations on how to be more stable or improve breathing techniques. Whatever we see they need help in the most, we try to assist as much as possible."
Once the live firing commences, Marines are accompanied by their CMCs. While a Marine's effort is individual, CMCs are there to provide guidance, and answer questions.
"During firing week, people tend to let their ego get in the way," said Meise. "When Marines see a bad shot, expecting more or better results, they begin to worry. Worrying causes them to forget the fundamentals! They're focusing on the shot, but not the form."
John said that during grass week, the coaches and the CMTs always get Marines to a point where the instructors and coaches are confident enough to say every Marine has the potential to qualify for annual rifle training.
"When I see Marines achieve more than what they thought they could, it really makes me look forward to what I may see in the future of my Marine Corps," said John. "I know it is because coaches try to uplift the shooters and the shooters try to uplift each other increasing everyone's confidence and overall mindset."
Deep breath. Fundamentals: stable shooting position, slow steady squeeze, natural respiratory pause, expect the recoil…
"Shooters you may commence firing when your TAAARRGETS appear"