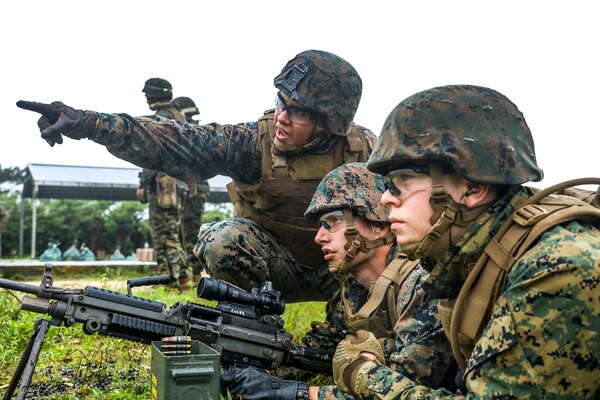 CAMP HANSEN, OKINAWA, Japan —
Heavy brush sways in the wind, leaves falling gently to the damp ground. Rain pours from the darkened sky, transforming into steam as droplets ricochet off of the barrels of lethal weapons, scorching from heat caused by the reaction of what happens inside.
A U.S. Marine lies in a fighting hole, wet but poised. Clenching the pistol grip on an M240B machine gun, he eyes his radio and waits for a command.
The order crackles through the speaker.
"Fire at will."
Marines with Networking Platoon, Communications Company, Combat Logistics Regiment 37, 3rd Marine Logistics Group, trained on Range 7, Camp Hansen, Okinawa, Japan, June 6, 2019.
During the training, the Marines employed M249 light machine guns, M240B machine guns and .50 caliber machine guns while communicating with each other using hand-held very high frequency radios.
U.S. Marine Corps 1st Lt. Vincent Santini, Networking Platoon officer-in-charge, said the training held a specific purpose for the Marines.
We all are riflemen first. Everything else comes second.U.S. Marine Corps 1st Lt. Vincent Santini
"This gave the Marines the opportunity to experience a practical application of why they need to learn and understand skills as far as handling crew-served weapons and operating radios," said Santini.
Santini added that the networking Marines don't normally get a chance to work outside of their office or practice using radios to communicate with each other while engaging a notional enemy.
"Most of these Marines are network administrators, not field radio operators," said Santini. "They don't typically do radio communications while in the field."
He said it was a great way for the 3rd MLG Marines to cross-train as field radio operators and adapt to support III Marine Expeditionary Force in whatever capacity they are needed.
Squeeze to talk
Photo by Cpl. Joshua Pinkney
"During a fight, communications Marines are responsible for providing rear security," said Santini. "We have to be able to trade out with other Marines who are providing security and get down in the fighting holes in order to support the unit."
Santini added that Marines are expected to be capable of operating a wide range of weapons when providing rear security, and networking Marines need to be able to fire accurately from various distances in order to be valuable assets during a firefight.
"The weapons training broadens these Marines' effect on the battlefield," said Santini. "We all are riflemen first. Everything else comes second."
After leaving the firing line, Marines received further knowledge on the operating procedures of the radios. They learned that high frequency radios are capable of providing the Marines both long and short-range voice and data communications, while ultrahigh frequency radios are typically used for ground-to-air communication, and require line of sight between each other in order to be effective. They were also taught that very high frequency radios, like the ones used during the training, provide a system that is able to be used while troops are both on the ground and air-borne, and serve as the primary means of communication for command and control and fire support on the battlefield.
According to Santini, it was essential for the Marines to learn how to operate weapons and radios while in the field.
"While we provide security, we also have to be able to facilitate communications so that commanders are able to talk, coordinate fires and coordinate their Marines to do what needs to be done in order to accomplish the mission," said Santini.
Santini noted that his Marines learned a lot from the training.
"These Marines are prepared to support the MEF and sustain the Pacific whether they are in garrison or in the field," said Santini.
More Media