This report originally publishes at marines.mil.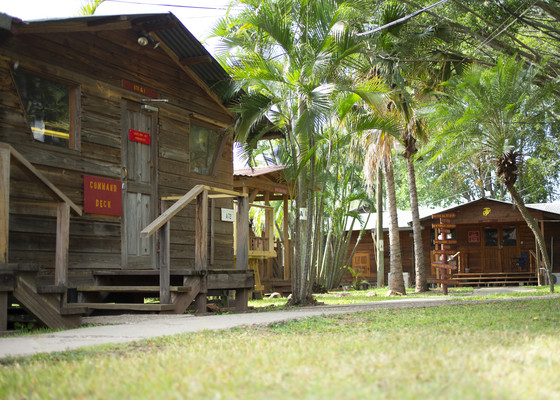 SOTO CANO AIR BASE, HONDURAS —Marines have reported for rotations of the Special Purpose Marine Air-Ground Task Force – Southern Command for years deploying to a small compound of wooden huts tucked in the corner of this historic place. This semi-secluded area has been known for years as Alpha Block, but this that changed with the renaming of the Marine camp.
Dropping the penitentiary-sounding "Alpha Block", the Marines renamed their camp, Camp Manion after 1st Lt. Travis Manion, who earned a posthumous silver star for drawing fire away from wounded Marines in April 2007 in the Al Anbar province, Iraq.
Early in the deployment, the logistics element Marines built a new gateway into the compound, christening it Camp Manion in the bright red and yellow found on all Marine Corps Bases.
"This is the first SPMAGTF led by a logistics regiment, and 1st Lt. Manion was a logistics officer, so his role in his unit is near and dear to our mission here," said Lt. Col. Erich Bergiel, SPMAGTF-SC executive officer. "As Marines we like to make things our own and we've done that here by honoring a very worthy hero of our own."
The Marine Corps is also known for its small size when compared to other services and one officer with the SPMAGTF had the honor of crossing paths with Manion.
"I replaced the good lieutenant as the motor transport officer at 1st Recon Bn when I was a young lieutenant myself," said Maj Stephen Bartoszak, SPMAGTF-SC logistics officer. "All of his Marines became my Marines and I suggested we name the camp after him because of the lasting effect that he had on those Marines and on the Marine Corps as an institution."
Now the example Manion set for his Marines will live on as part of the Marine Corps tradition for every Marine and Sailor that serves as part of SPMAGTF-SC.
"Manion embodied leadership," Bartoszak said. "His methods and qualtiy of leadership makes him a great example for Marines of all grades and ranks to emulate. Having a whole camp named for him feels like a well-deserved recognition of a great Marine leader."
U.S. Marine Corps (USMC) reports are created independently of American Military News (AMN) and are distributed by AMN in accordance with applicable guidelines and copyright guidance. Use of USMC and U.S. Department of Defense (DOD) reports do not imply endorsement of AMN. AMN is a privately owned media company and has no affiliation with USMC and the DOD.