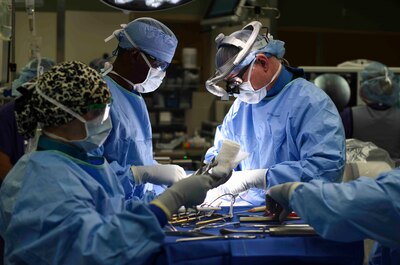 ---
NELLIS AIR FORCE BASE, Nev. —
The 99th Medical Group based at Mike O'Callaghan Medical Center here successfully completed its first set of orthopedic spine surgeries after bringing two specialized surgeons to the unit.
As one of the more limited Air Force Medical Service specialties, orthopedic spine surgery has only three qualified surgeons in the entire Air Force, two of whom are now on the team at the medical center here.
Air Force Col. (Dr.) Edward Anderson and Air Force Maj. (Dr.) Bryan Lawson, 99th MDG orthopedic spine surgeons, bring a combined nearly three decades of surgical experience to the operating table. Their goal is to increase capabilities inside the hospital as well as increase individual deployment readiness.
"We understood that we had a significant amount of spine surgery cases that were being referred to physicians downtown," said Air Force Col. (Dr.) Kim Pietszak, 99th MDG medical staff chief. "After doing the math, it became pretty apparent to us that we should be providing this care inside of our facility and could do it for less cost to the government."
Increasing Medical Readiness
Pietszak said the benefits of performing complex surgeries in the orthopedic spine clinic go far beyond the operating room because each surgery requires a great deal of preparation.
Prepping those patients increases everyone's medical readiness, she explained, with the nurses admitting the patients, the technicians doing lab work and everyone else involved in the process soaking up the knowledge from their environment.
Pietszak said this clinic is a big win for the Air Force and for Nellis. Not only will the care providers be able to take care of the airmen in their facility, she added, but now they are able to monitor them closer and better gauge when they are able to return to work, improving the airmen and their readiness.
Both Lawson and Anderson are optimistic for the future of orthopedic spine surgery at Nellis.
"I think we have to start with procedures that are fairly straightforward," Lawson said. "But the goal is to provide the full complement of spine care here."
"When you're setting up a complex spine program, you want to grow this in a deliberate way in order to continue to deliver safe care," Anderson said.
"The reality of it is that we get to a point where we're in such a specialized field that who I needed wasn't just another surgeon," Anderson added. "They told me they needed complex spine surgery done here. I told them I needed Dr. Lawson because it's a team sport — you can't do it alone."
Lawson and Anderson have known each other for nearly a decade, and their complementary work ethics are key for Nellis to enhance the 99th MDG's readiness as a unit.
Having a Good Team
"Half the battle when performing surgery is having a good team," Lawson said. "There's so much the institution is capable of providing, but what can almost dwarf all of that is when you're starting to build a team and how the interaction with your colleagues is. Thankfully, it's something that has already been sorted out for Dr. Anderson and I over a course of years from working together."
This also gives other orthopedic surgeons here, who aren't traditionally spine surgeons, the ability to scrub-in, or assist, on a spine case and learn some of the skill sets from Anderson and Lawson.
"Setting up spine surgery here doesn't have anything to do with our surgical readiness, because when we deploy, we deploy as general orthopedic surgeons — not spine surgeons," Anderson said." Maintaining our airmen's readiness all has to do with what follows on with our service line. It keeps the nurses on their toes in the intensive care unit and the technicians trained in the lab, among many other roles that are played to keep a hospital running."